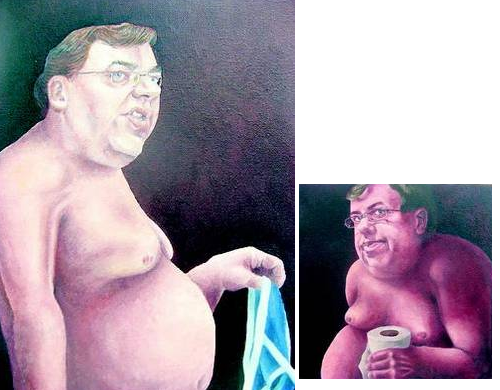 The fact that Our Glorious Leader cannot take a joke is now firmly fixed in the nations psyche: making RTE apologise for their light-hearted (OK, they were all pissing themselves) coverage of the mysterious case of the magically appearing nudey pictures was a really, really bad PR move.
Brian, you should have taken this like a man, laughed it off and then gone home and cried into your teddy bear in private, if you'd felt that awful about it all. Now, added to the fact we think you're a bully and a blusterer, it seems you can't take a slagging either.
And I presume Herr Cowen didn't pose for his portraits - oh delicious art-related irony, an oil painting of NO OIL PAINTING - meaning we've no real idea if he a) actually wears blue and white y-fronts and b) if he really has those man-boobs. But if he does,  then he could do with a bit of help in that department. And who better to provide it than Ireland's Top Beauty Blog, eh?
Advertised
So what should Brian do about his decolletage?  Sadly, Pout's acclaimed Bustier is no more, but he could try another firming cream, like Decleor's Perfect Sculpt Bust Beautifying Toning Gel or Clarins' Bust Beauty Lotion. On the cheaper side of things, No 7 and Avon both do reasonably priced firming products.
Of course, Cowen shouldn't be seen to be flagrantly spending money on his fine good looks in these recessionary times, so we'd also suggest that he try a splash of an astringent toner - or even cold water  - after his morning wallow to help tighten and tone skin.
Pic: the Sunday Tribune