 We spoke with Tríona O'Donnell of ModaFix about her experience of living with endometriosis, a condition which affects approximately one in ten Irish women.
I want to share my experience with you because if after reading it, even one person gets checked, I've achieved something important.
For several years I've suffered from chronic period pain in the run up to my period; bouts of dehydration and faintness often accompany it, as well as shooting pain with bowel movements. It became intolerable this month when my body finally told me that it's time to rest.
And I'm not alone in having put up with the pain for so long. Lena Dunham spoke out about endometriosis, saying 'it's a sad and beautiful moment when you realise just how much you have let yourself endure'.
I'd just accepted the pain as something I just had to deal with for a couple of days every month but in truth, the discomfort persisted for a week and a half beyond the duration of my period. I honestly thought it was dietary related and that it was all self-inflicted: swollen belly, constipation - all my clothes had to be loose-fitting.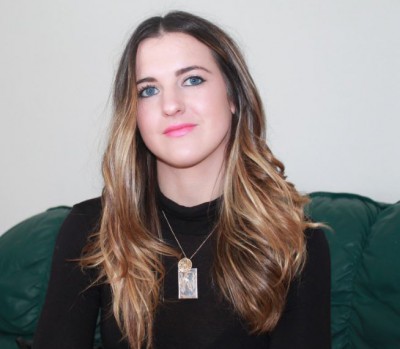 But after two sleepless nights, I called into A&E and the nurse brought me straight away to have bloods taken. I am very very squeamish so this in itself was an ordeal. I nearly passed out, had to get the oxygen mask and lie for 20 minutes. Thankfully no infections showed up in the blood and my urine sample tested negative for pregnancy but the more I told the doctors, the more I seemed to confuse them. They suspected endometriosis but I was convinced it was minor colitis, irritable bowel or my appendix.
But what showed up in the ultrasound was a cyst of 14cm on my right ovary. And it was haemorrhaging. Normally cysts are 3-4cm and when monitored they may go away. Mine was the size of a melon and could have been growing for up to ten years. The doctors said that it would have to be removed immediately.
You're probably thinking how did it fit or where was I hiding it? Generally my stomach area is taut, but the past while I had been complaining that I was feeling bloated and simply thought I'd gained weight. I started attending three exercise classes weekly and I was running 10km at the weekends in a bid to get my body back in shape. Little did I know it was totally out of my control; it was my endometriosis (which I didn't even know I had) that caused the cyst.
And I felt such a sense of relief. After all these years, I now knew what was causing all the discomfort and that I wasn't imagining it.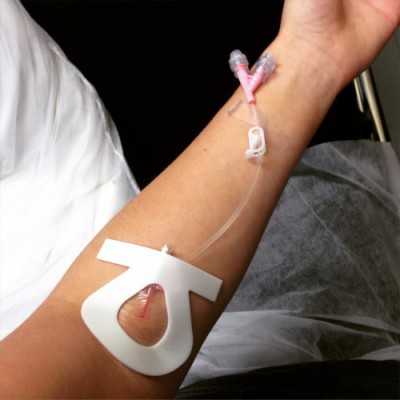 Then I was introduced to consultant Dr. Heather Langan of Sligo General Hospital who I had heard was fantastic. She explained that she would do her very best to remove the cyst only, without having to remove my ovary or affecting the fallopian tube. This would be tricky due to the bleeding. She assured me that it wouldn't affect my fertility regardless as my left ovary would have enough eggs to last me a lifetime.
And it's still a delicate issue to discuss. They told me that they would have to make an incision to my lower abdomen and I'd be out of action for six weeks. Tears were streaming down my face at this stage because I couldn't imagine being out of work or doing nothing for six weeks. It was obviously a lot to digest, and I hadn't been expecting any of this. On the plus side, she said it would greatly improve my quality of life and we would be able to control the pain.
At midnight, I got the only available bed, which was in the Oncology Ward. Machines were sounding all night; I was restless and afraid. The following morning the cyst burst during the surgery and I lost a lot of blood, but thankfully the procedure went as planned; they didn't remove my right ovary. I woke up in agony and when asked about the pain on a scale of one to ten, it was a definite ten.
Advertised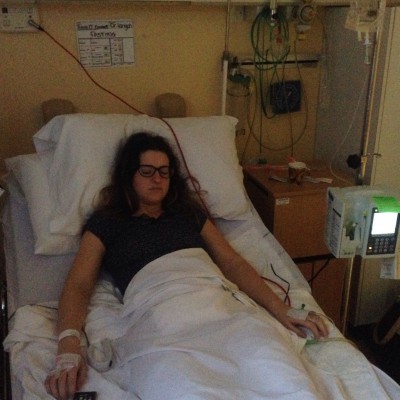 I managed to get my own room in the Surgical-Gynaecology Ward and really needed the privacy. I was confined to my bed for the evening and had a couple of catheters and bags attached for blood and bladder drainage. I was hooked up on both sides with morphine and fluid.
When the bags were removed and with the aid of two nurses each time, I could get out of bed and use a commode. I was so weak and light-headed. A regular blood count is 11-12; mine was 7.4. I was ghostly white and I would have to get two blood transfusions. This involved two bags of blood hanging by my bedside and flowing into my left hand. I felt like I couldn't take any more surprises.
Afterwards, I felt so much better. I was high on someone else's blood! Despite my squeamishness, I now really hope to give blood in the future and I would encourage you to do the same. The highlight of my day was being able to get out of bed myself (very slowly) and walk to the bathroom. The physio encouraged me to walk for five minutes and build it up gradually each day. It will be three months before I can run again.
Everyone has been so kind and caring. It was a very positive experience in Sligo General Hospital. The nurses on my ward, Jane, Jessie and Aoife, were exceptional as well as the student nurses from St.Angela's, the care assistants and the catering staff. I don't know how they do it; they were so patient and always upbeat. They saw me at my weakest, they washed me, dressed me and attended to my every need. I didn't have the energy to get embarrassed or feel self-conscious.
I realise my recovery will be slow: I tire easily, my back gets sore as I can't straighten up fully just yet and my stomach is tender. I'm going to be a little swollen for another few weeks due to the surgery and medication, but I can't wait to sit and enjoy a meal without holding my stomach and wondering 'What IS it that I'm eating?'
I'm not telling you this to scare you or because I want your sympathy. I'm happy that I've finally discovered the problem and I'm encouraging you not to leave it as long as I did and to get checked immediately if you suffer from chronic period pain. Make it your business to address it now.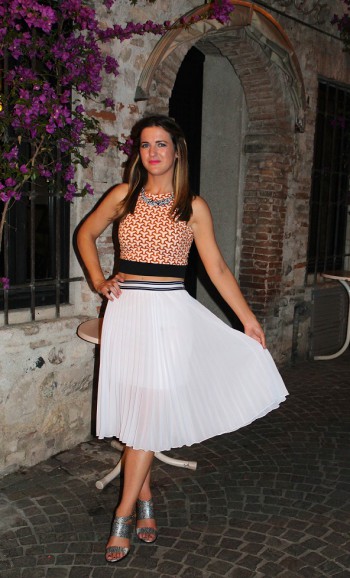 I've needed to slow down for a long time and now I'm making time to concentrate on enjoying life's simple pleasures. I'm sure I'll come up with a new project to keep my mind active while I'm recuperating; maybe I'll even take up a new hobby. And I've already decided on my first task; I want to learn how to cook a handful of dishes from Natural Born Feeder.
Here's to a speedy recovery and spreading awareness.
Do you suffer from endometriosis? How has your life changed and do you have any experiences to share?
Advertised
For regular updates visit www.modafix.ie or find @modafix on Facebook/Instagram and @moda_fix on snapchat.