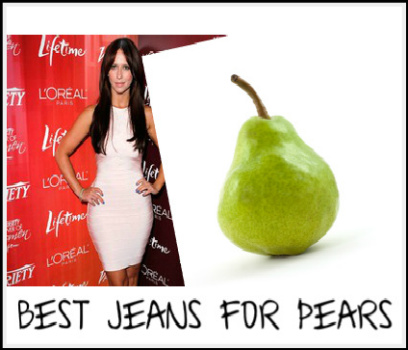 I think a pear shape is one of the sexiest shapes, despite the hourglass getting all of the good press, so I'd be tempted to tell you to wear a straight-legged jean, which will not draw attention away from your hips at all (seck-say!). I think pear shapes get a lot of "don't wear jeans, just wear A-line skirts and pretend you're from the 1950s" but . . . really? Jeans are for everybody, I say. Denim = the great leveller.
In all 'n' anyways, you're a pear shape if you are (obviously) shaped like a pear - so your hips are going to be the widest part of your torso, with your body tapering towards the top. Most usually, pear shapes have small upper halves, which means great news for arms and collar bones, but not such great news for hips 'n' thighs. (Luckily for you, it's not all that socially acceptable to go around in hot pants - Krystle-goers, take heed - so really, you drew the long straw after all.)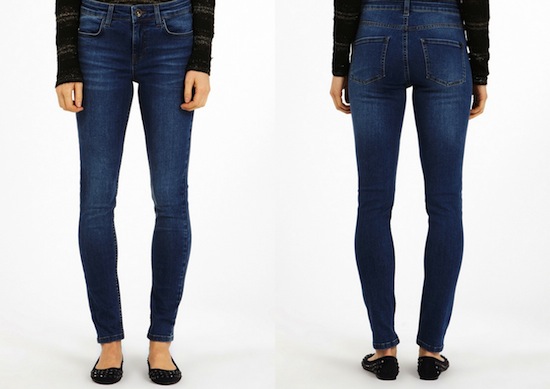 If you fancy going for a skinny or straight leg and showing off that dangerous curve, try something like Oasis's Cherry jean. They're between a mid and a high waist (unless you're Beyoncé, you don't want a low rise jean - that way lies builder's bottom disaster) and an almost-skinny. So, you know, not quite sprayed on to your legs but a slim ankle all the same. They also come in a host of colours and (best of all) are €48. If you're a student, Oasis regularly does 20% off student days, so it's worth keeping an eye out for those, too.
Advertised
If, on the other hand, you want to disguise your bottom-heaviness and give yourself a more "even" figure, you want to go for a flared jean. MiH's Marrakesh jean will work (remember, I wrote about them here) or New Look's bootcut (featured here), but, as a lot of clever Beaut.ie commenters have pointed out, one of the best bootcut jeans around comes from none other than Dorothy Perkins.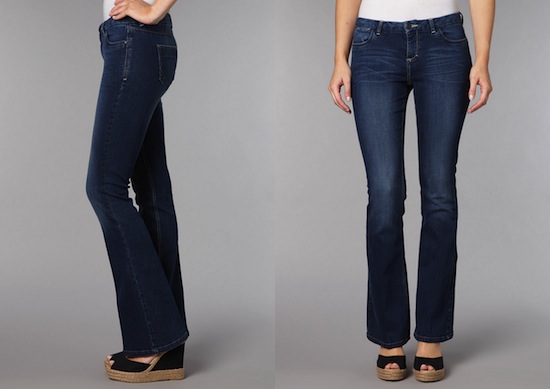 There are no mad tricks to these jeans, which will set you back (I think) €30. They're a lovely traditional indigo, with slight fading down the front of the thighs - which will, as I said, draw attention to that area, but will draw attention away from the sides of the thighs, which is a plus. I would go for a little longer than in this pic, so it's great news that they come in several different lengths, and several different washes! I love the indigo for a really traditional denim vibe, or they also have a darker indigo which is slightly dressier.
If, however, you're really intent on covering up your pear shape, the most important thing to pay attention to is your top half. If your top falls to the middle of your thigh, parallel to your you-know-what, you'll be laughing - but if it hits just above where your hips widen, all eyes will be on the contrast between your waist and hips. It's about tricks of the eye, rather than any real concealment.
Finally, whose category do you fall into? Claire Danes's, Beyoncé's and Rihanna's! Not too shabby!
Advertised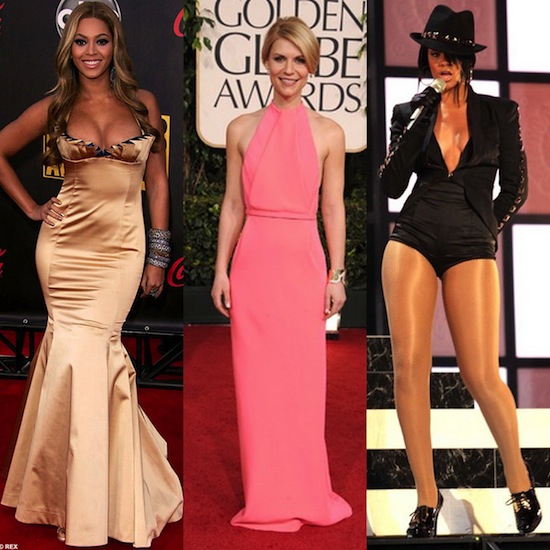 Get Beaut.ie Delivered
Stay updated with Beaut.ie newsletters full of the latest happenings at Beaut.ie as well as great offers and things we think you might find interesting .