 Rihanna can wear just about anything and look amazing but recently she rocked up to the grand opening of Jay-Z's 40/40 nightclub in New York, wearing what looked like, cream-colored pyjamas.

Now I hear you all - at least she was heading to a club! Round my way they go to the shop to pick up a pack of fags wearing pyjamas!
No one other than the girl herself would dare to wear this. And Rihanna has done it before, twice before actually. A few months ago she wore a blue set from Stella McCartney to a red carpet event.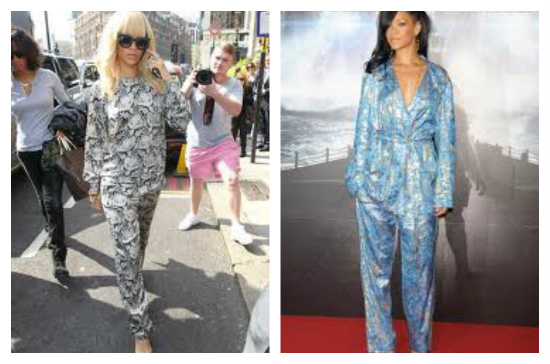 But does she get away with it? If you can wear underwear as outerwear why not nightwear as eh, nightwear? Hugh Hefner has been doing it for decades.  However lets not think about that one too closely.
So let's break it down and look at how she styled it.
The 'pyjamas' themselves were silk, with a neutral print design from Acne's resort collection. RiRi accessorized the silky look with gold Manolo Blahnik sandals and gold accessories. Pyjamas with heels?  This look should really be sexy and seductive without showing too much skin. Rihanna choose to close only one button and used her bellybutton as an accessory.
Advertised
I am not sure it will ever be a thing around here, what with the weather and all, so do you think it is possible to take that pretty set of PJs you got for Christmas, split them up and wear them in public?  The theory is, you could just add a pair of skinny jeans to the top of a pair of patterned loose pyjamas or wear the bottoms with a jacket. But would you really?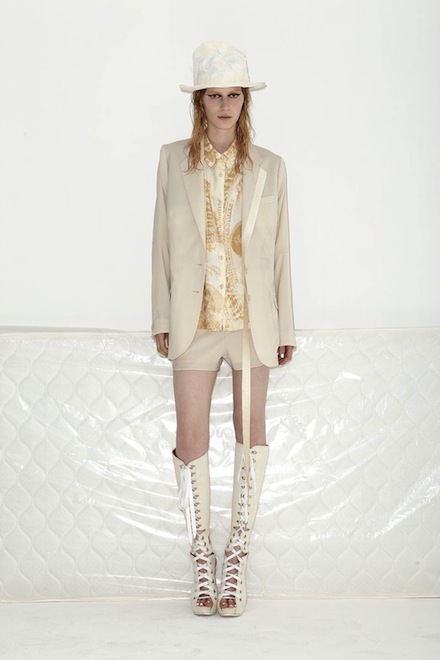 The best way to wear this look, if you are brave enough, is with either monotone pieces to keep your outfit well-balanced, or pair them with other printed items to make a contrast. Look how cute the top looks on the model from the Acne Resort Collection show? How awful is the hat though? And the boots!

I think Rihanna gets it right a lot of the time (I know that's up for debate though!) but I am not sure about this look. What I am sure about is this ultra-chic monochrome look she wore out for dinner recently. The A-line black skirt with the simple white vest is simplicity done to perfection and she has styled it beautifully with the strappy sandals, a matching pedicure, and gold jewellery. With her cute pixie cut and a perfect red pout, this is one of the classiest looks she has ever worn.
So stick to real clothes Rihanna, you do it so well - especially when you remember to put on your bra!
What do you think of the jamas look?  Will you be rocking them this season?
Advertised
Jane Tynan