 What a week for celeb babies. We're beginning to think that there was a newsletter that went out telling them to start repopulating. That or the hot weather in July just led to a free-for-all in the bedrooms of the rich and famous.
Earlier this week, Clarence House this confirmed that Kate Middleton is pregnant with her second child saying, in typical royal fashion, "Their Royal Highnesses the Duke and Duchess of Cambridge are very pleased to announce that the Duchess of Cambridge is expecting their second child." As with the early days with Prince George, poor aul Kate is suffering from very acute morning sickness and is being treated by doctors at Kensington Palace.
And lo, Royal Baby-gate begins anew.
The Queen is said to be 'delighted' at the news that Prince George is going to have a new baby brother or sister. Probably because it will take some weight off his itty bitty shoulders should he ever want to pull an Edward and abdicate.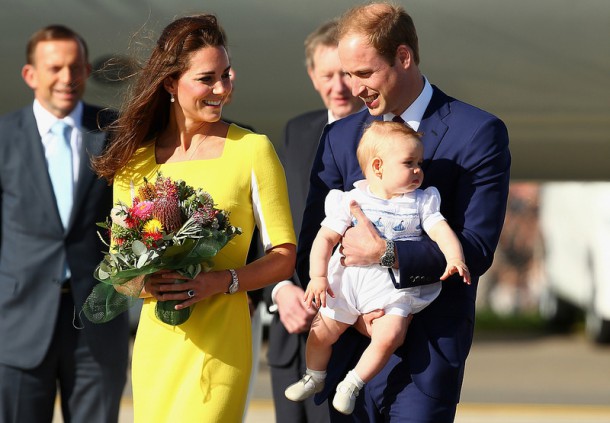 Yesterday we had a discussion on site about social meeja and how people have a tendency to over share every little detail. And then there are the people who just get it so right. And the lovely Amy Huberman is one of that rare bred.
Advertised
We learned yesterday that there's a new little brother or sister on the way for Sadie O'Driscoll, as Amy revealed her pregnancy to the world. Talking to the Independent, Huberman said that they don't yet know the sex of the baby and are keeping it a surprise and that she is due in November, so no IFTA/Six Nations drama this time around.
"It's lovely timing with Brian finishing, it's exciting and I'm really excited for Sadie as well," she said. "She doesn't understand at all though, not a bit. It'll be a new thing for her play for - I'm sure she'll understand by November. Brian is feeling very excited - so it's all change. Two kids, it sounds so responsible."
Huberman took to Twitter after the news broke yesterday evening to share her #OOTD (that's 'outfit of the day' for those who aren't versed in Twitter acronyms), showing off her COS coat, obligatory Newbridge Silverware necklace and one extra feature.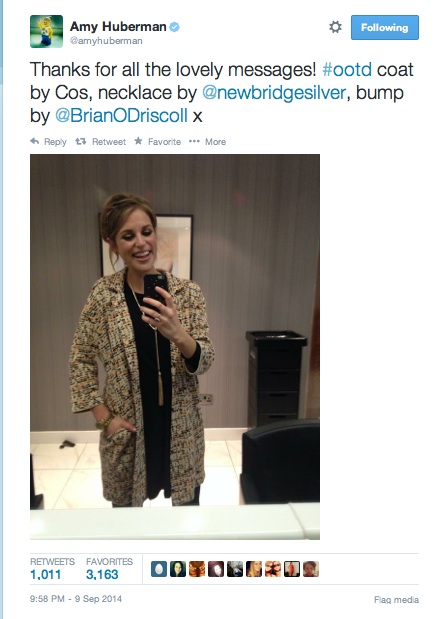 You have to hand it to her, the girl knows how to do a good tweet.
Advertised
We can't WAIT to see the maternity wardrobe that these two dip into. Maybe they'll be sharing stretchy jeans tips. Were you a stylish mama-to-be?