 Recently we met the lovely Catherine and Suzanne from Boutique Bake and they have been sharing their delicious baking recipes with us in their Sweet Saturday series (you can check out more of their recipes here).
And today they are going to spoil us with their quick 'n' easy apple crumble recipe.
Where there's a whisk, there's a way.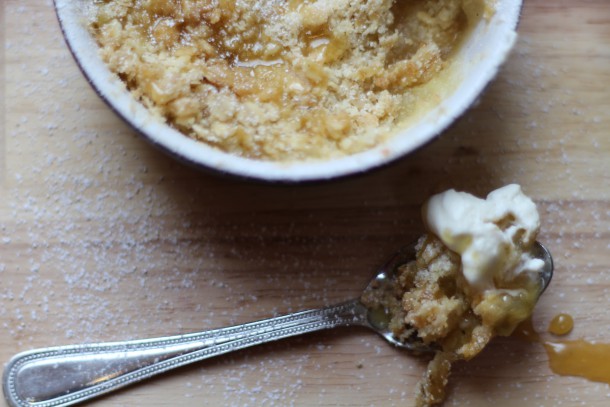 This week we have a delicious recipe for our Boutique Bake version of an absolute classic, apple crumble! This is so quick and easy to put together and such a crowd pleaser. And we've have added some oats into the traditional crumble topping, which makes it extra crunchy,
We also made our crumble in little, mini ramekin dishes, which is a really nice way to serve if you are having a dinner party. If you don't have dishes like ours, you can pop them into a regular round pyrex/ceramic, ovenproof dish.
You really can't go wrong with crumble as it's very forgiving, so don't worry!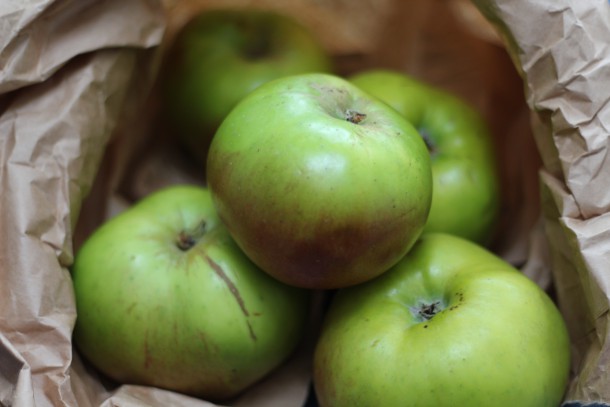 We think what really makes this crumble extra special is to serve it with cream (of course!) and a lovely homemade toffee sauce. This is a real treat, and this sauce can be used again and again, it pretty much makes any dessert extra decadent.
So here you go!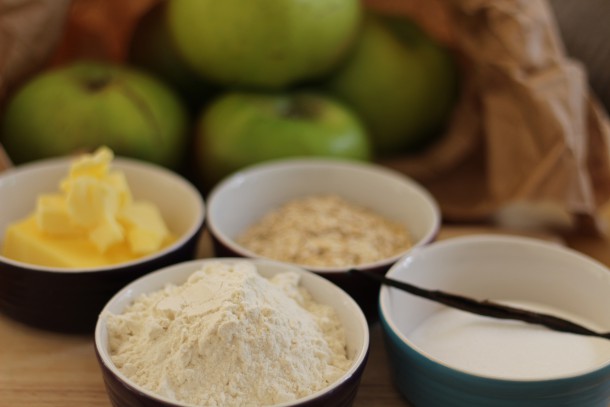 Ingredients:
For the crumble:
50g porridge oats
150g plain flour
50g caster sugar
80 g butter
1 vanilla pod (optional)
For the filling:
4-5 large cooking apples (approx. 400g)- peeled, cored and quartered
50g caster sugar
1-tablespoon water
Toffee Sauce:
Advertised
75g butter
150g light brown sugar
100g golden syrup
100ml cream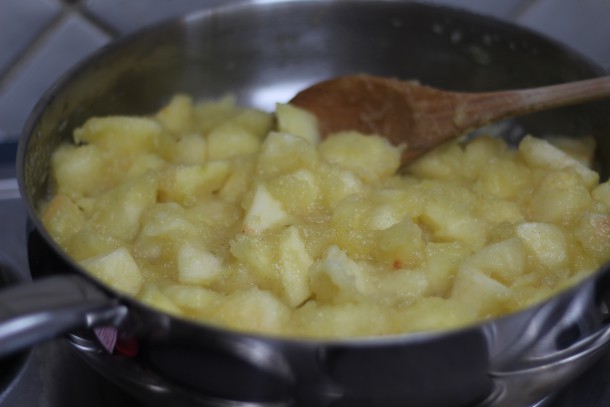 Method:
Preheat the oven to 190°C/375°F/gas 5. Peel and core the apples, quarter and cut in to bite-size chunks.
Put the apples into a large pan with the sugar and water. Cook over a low heat for 5 – 10 minutes until the apples are nice and tender, leave on the heat a little longer if necessary. Remove from heat and set aside. (Optional: Remove from heat and stir in your vanilla pod scraping and mix through).
Place the flour and oats in a bowl and mix well. Cut the butter into small cubes and add this to the mixture. 
Using your fingertips, mix until it resembles an even crumb-like texture.
Add the sugar and mix through.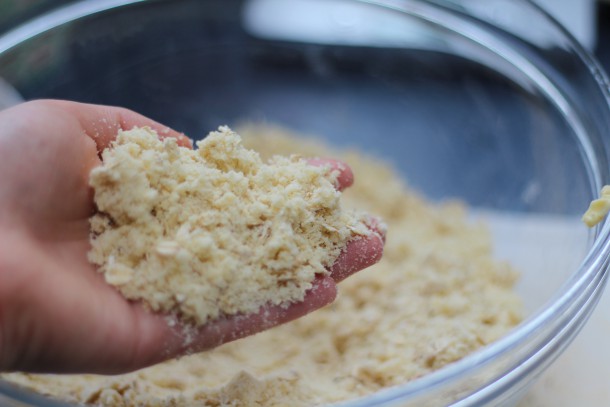 Place a nice thick layer of your apple mixture into each dish and then generously cover with your crumble topping.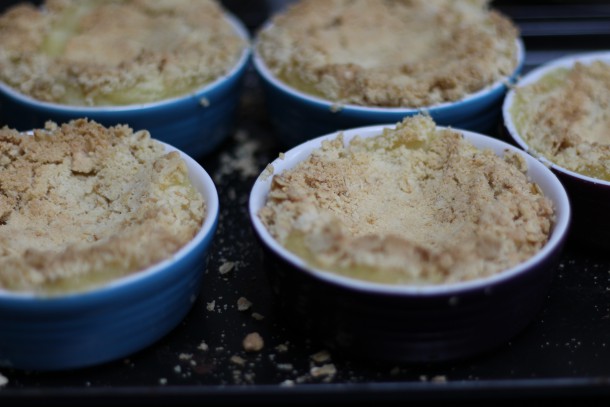 Bake for approximately 25 minutes, until the crumble is nice and golden and the apple mixture is bubbling through.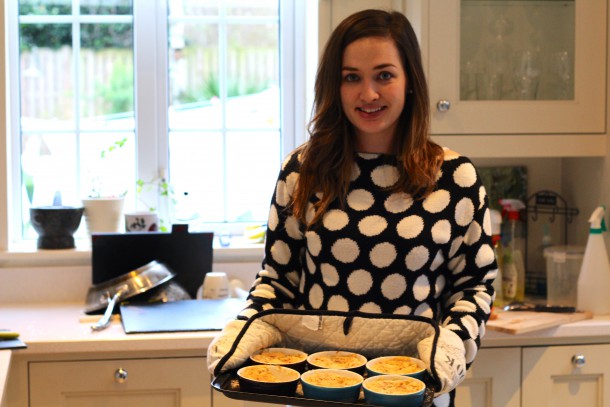 Now for your Toffee Sauce:
Place the butter, sugar and golden syrup in a pan over a low heat
Stir slowly until all ingredients are nicely combined, this should take about 5 minutes
Remove from the heat and pour in your cream and stir through.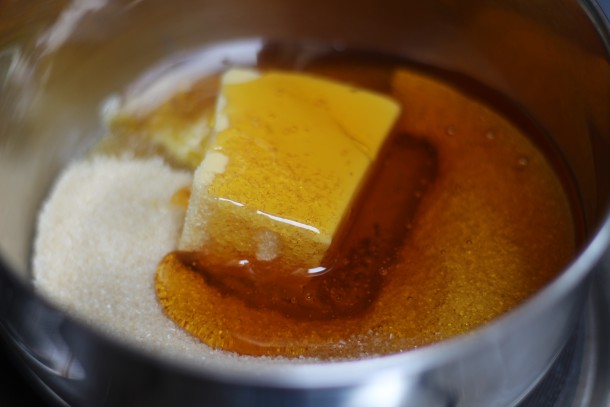 Pour your sauce into a jug and its ready to serve with your apple crumbles.
We would recommend serving your crumbles warm with some whipped cream, so delicious!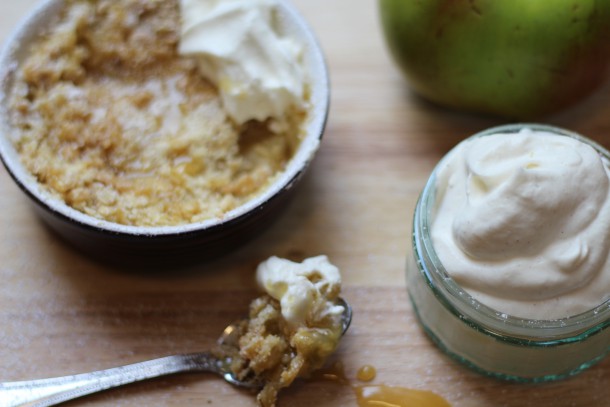 Don't forget to tweet us pictures of your apple crumble creations @boutique_bake or post them on Instagram using the hashtag #bakemyday – then we can find your beautiful pictures easily!
If you guys have any baking questions, we'll be back on Monday to answer them so make sure to comment below.
Advertised
If you'd like to read more from Boutique Bake, why not check out their website www.boutiquebake.ie? And if you are a social media fan, you can like them on Facebook, find them on the twitter machine (or Instagram) by searching @boutique_bake or even on Pinterest.