 There's something inherently ridiculous about the idea that we're supposed to entirely overhaul our wardrobes every season (thankfully, that's fashion season - S/S and A/W - not all four calendar seasons). That said, having worked in Brown Thomas for a time, I can tell you that there are women out there who do this. Each season, it's out with the old and in with the new as they buy into the trends that Vogue is telling them to buy - and these are not just capsule wardrobe aficionados who are updating their stock with a few "statement" pieces, these are women who are buying an entirely new wardrobe.
The recession has probably put paid to a lot of that - although some folks are still living the high life - and I know that most Beaut.ie readers won't be going out with their credit card and their chauffeur to restock the wardrobe this season! But we'll probably all indulge in a few bits 'n' pieces to bring us out of the winter and into the spring, and there's nothing wrong with that at all. So what can we expect from the high street, and what should we be buying?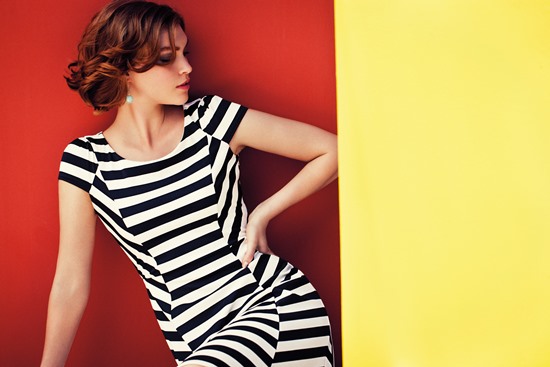 Monochrome is one of the big stories for spring/summer, which is slightly unusual for a season that tends to favour girly bubblegum shades. But I'm not complaining! After last year's sweetness overload, it makes a nice change. This striped scuba bodycon dress from Next (€69) is a great, easy-to-wear piece - if you think it's a bit much, you can throw a blazer over it, and it will work in the chilly weather we're set to experience next week with a pair of black tights and a chunky black scarf. It also looks lovely with a bare leg, and will be great for summer (if we get one!).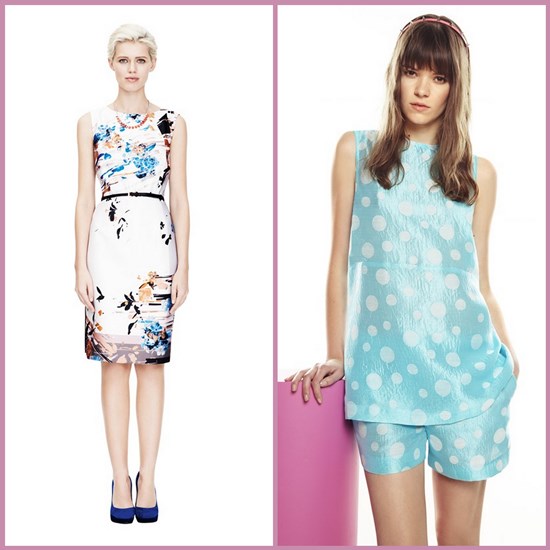 Another big trend we saw on the S/S catwalks is oriental, with Prada especially going down an almost origami route with their kimono-inspired pieces. While the Prada look, complete with geisha-inspired socks'n'sandals, might not go down a storm on Dublin's streets, Marks & Spencer's oriental printed pencil dress (above left, €95, from February 7th) is a much gentler interpretation, and way easier to wear. I love it as it is here, with (pale) bare legs and arms and blue pumps, but if you wanted to cover your arms you could layer a polo (yes, really!) underneath it or wear it with a coloured blazer or cardi and a pair of tights. So versatile, dresses!
Advertised
Thanks to Louis Vuitton, we're also seeing a lot of 1960s-inspired geometric and graphic prints filtering on down to the high street, and this twosie from River Island (above right) is seriously cute. Now bear with me, I know this won't be everyone's thing (and sorry, but I don't have a price for it yet!). But ever since I started reading How Two Live, the Australian fashion blog of two super-cool sisters, I'm really converted to the idea of wearing shorts and pant suits! Of course, the little T-shirt would look great with a pair of jeans if you're not quite brave enough to go to the whole hog!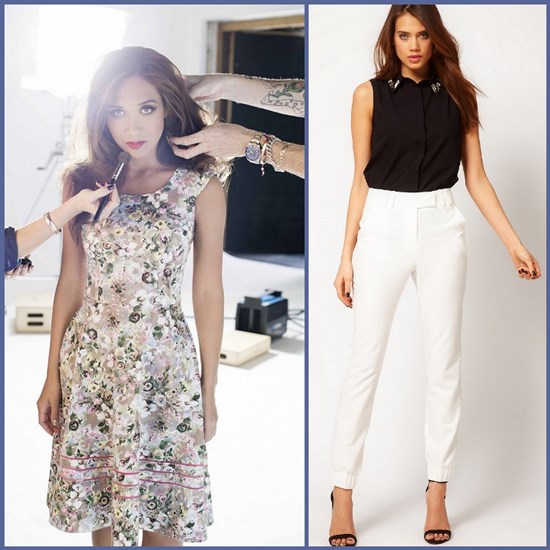 White was everywhere, which made a nice palate cleanser from A/W's dark tones, but is also a bit of a frightening concept for a nation of pale-skinned women who fear the Liz Hurley effect! Asos's white trews (above right, €48.62) might seem like a scary concept, but as long as they are the right fit (crucial!), they will look good even on the chunkier of thigh - and you can always wear them with a longer top or tunic if you don't want to expose your crotch area. (I, for one, never like to expose my crotch area, ever since I heard an explanation of the word FUPA. Google it.)
Last, but by no means least, it wouldn't be spring/summer without some florals, and we've moved from the OTT florals of A/W to a subtler, softer floral for spring! This dress by Myleene Klass for Littlewoods Ireland (above left, €79) is really cute, and the full skirt gives it the vintage feel you need to stop it looking cheap.
But tell me: do y'all follow trends, or do you ignore them? Are you interested in seeing what you "should" be wearing each season, or do you pretty much wear what you want, with a few extra bits'n'bobs here and there?
Advertised