 Earlier this week, I did something that I've been threatening to do for the best part of a year.  I finally bought myself a pair of hidden wedge hi-top trainers like a damn dirty hipster.
Now, I know they're not exactly a long-term investment and I'm very late to this particular bandwagon, but I don't really care since (a) I got them in exchange for a godawful jumper I was never going to wear anyway, so it kinda feels like they were free, and (b) they are SO. COOL.
As mine are all black, they're also surprisingly dressy. Paired with skinny jeans or leather-look leggings, the heel makes me look taller and lengthens my legs – always a winner – and they're comfy, too. So comfy that it's incredible they're packing a 3" wedge.  I mean, that's the height of most of my going out heels, and I can barely manage in them for an hour at a time, never mind tramp around town all day in them.
Isabel Marant's wedge trainers were the originals that inspired a thousand (probably) high-street incarnations, and happily versions now abound to suit all pockets.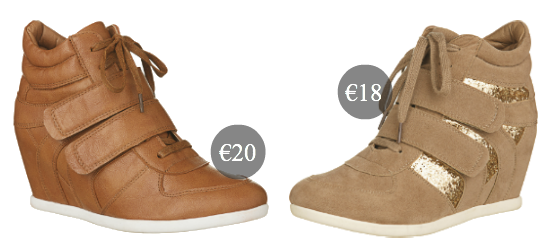 Penneys tan PU double strap wedge trainers | Penneys glitter double strap wedge trainers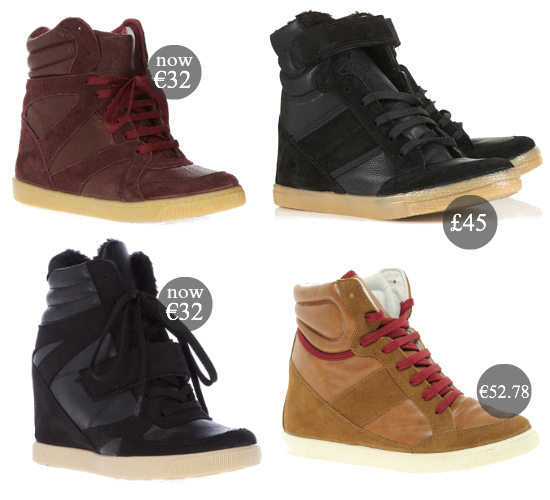 Advertised
clockwise from top left: Dorothy Perkins (on offer, usually €59) | Topshop | ASOS | Dorothy Perkins (on offer, usually €65)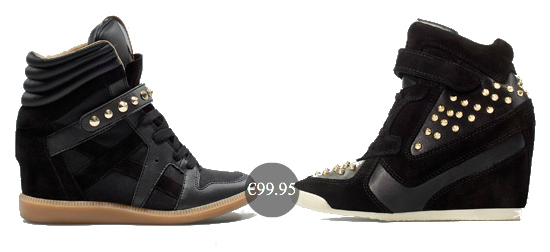 Zara TRF studded strap wedge trainers | Zara studded wedge trainers
Are you a fellow wedge trainers fan or do you reckon this is a trend that should be given the boot? And before you answer, may I very quickly present some fashionable ladies looking deadly in theirs: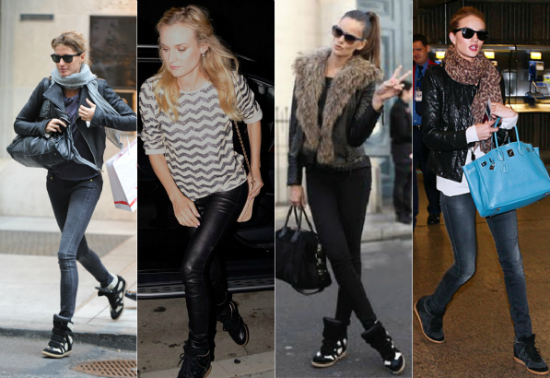 Right. The defence rests, y'honour. To the comments!
Advertised
Final images via Twylah | Mail Online | Mad About The Girl | Brigadeiro