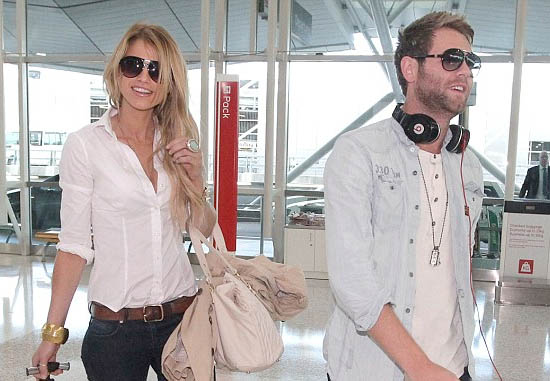 It seems the Daily Mail is intent on poking its nose into Irish model and reality TV star Vogue Williams' love life - they've just papped her at Sydney airport with none other than ex-Westlifer Brian McFadden - but Beaut.ie has another sort of investigation in mind.
A cosmetic cop-style one, no less. Vogue's undeniably gorgeous - slim, tall, legs that go on for ever, honey blonde, fab looking - so naturally enough, we want to know what she uses. Guess what? I interviewed her back in April for a 'what's in my makeup bag' piece for the Irish Examiner and was really surprised to find that she uses loads of low-end products.  Hurrah! She's just like us!
So, without further ado, here's a selection of what the lovely Ms Williams probably has in her beauty bag RIGHT NOW as she sojurns down under: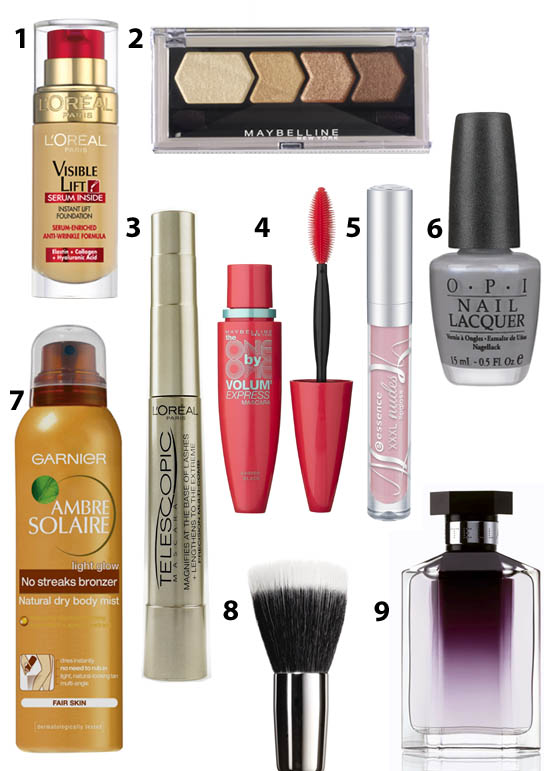 Advertised
While strictly speaking it's an anti-ageing product, "L'Oréal Paris Visible Lift Foundation, €20.99, is the one for me," says Vogue. "I prefer it to expensive picks because it's got a lovely colour and makes skin look great."
We like this little quad as well, flagging it up as a good buy last year. ""It's cheap and cheerful but I really like Maybelline Eyestudio Silky Glam Quad in Coral Drama, €9.95. It's the only one I use at the moment and all that's in my makeup bag. The shades are just really nice for summer," she says.
Hands up who doesn't like mascara? Yep, that'll be no one. Vogue's no different - she's picked two faves. "I can't justify spending a fortune on expensive mascara and two of my favourites are ones I pick up in the chemist."
"L'Oreal Paris Telescopic,€15.43, and Maybelline One-by-One Volume Express (€12.99) are both great," she declares
While we're big fans of Essence's budget-tastic ways, I have to profess my surprise that Ms Williams is a fan too. But she is - listen up: "Essence XXXL Nudes Lipgloss in Nude Kiss, €2.29, is brilliant! I have about six of these and use them all the time. For the price they are completely fab." Yep, we agree.
"I absolutely love painting my nails but I have to keep them neutral a lot when I'm working on modelling shoots so I often tend to just go for a basic French manicure. I love Chanel Particulère and and right now I am liking an OPI grey shade loads (try Give Me The Moon, €12.50) . Brights and reds are also great but it's good for nails to breathe occasionally too."
This gal has gams to die for - what does she use to get that bronze glow? Another supermarket spend. "I love fake tan but I'm not keen on the ones that develop. I always use Garnier Ambre Solaire No Streaks Bronzer Dry Body Mist, €16.99, because it gives instant colour and you can literally spray it on and head out," she reveals.
I'm very definitely with Vogue on this one: ""Honestly, you can't get great makeup without good brushes and I buy mine from Mac or Make Up For Ever. My favourite is the Mac 187, €45, for foundation. It's incredible, and gives a really airbrushed finish." We love this one too - read more about it here.
What about those all-important fragrant finishing touches? "Stella McCartney Stella, €70, is a favourite perfume of mine but it's expensive so I wait for my boyfriend to buy it for me for birthdays or Christmas. I also like Hugo Boss Femme." Hopefully Brian got her a bottle in the duty free, wha?
Got any faves in there yourself? Let us know in a comment!
Pic credit: top pic via Dailymail.co.uk