 It goes to show that the bridesmaid dress you choose does not have to cost almost as much as your wedding gown
One of the last jobs you put off doing as a bride (well, I did) is sorting out the bridesmaid dresses. I got married in March but waited until January to source mine - and got them at an absolute bargain price in the sales. €30 down from €100 is not bad at all. I kept details of the price quiet because I was slightly nervous of Judgy McJudgertons. I know I shouldn't, I know, I know, but even though I'm proud of my budget wedding, I don't want people thinking it was cheap.
I assumed that most people were spending at least €100 on their bridesmaid dresses - and to be honest, loads of people do - but loads of people don't. A few of my friends who've been brides bought their BM dresses on sale. A few just found great bargains. I get why people want to spend money on an expensive bridesmaid dress, though. They don't want to decrease the quality of the luxe affair they had in mind. But it is possible to buy a bridesmaid dress that looks expensive but isn't at all.
When I was perusing the iClothing site in search of a wedding guest dress yesterday, I came across this. It's one of those rare finds when even at the original price, it looked more expensive than it was. This was €129.95 and now, on sale, it's €38.99.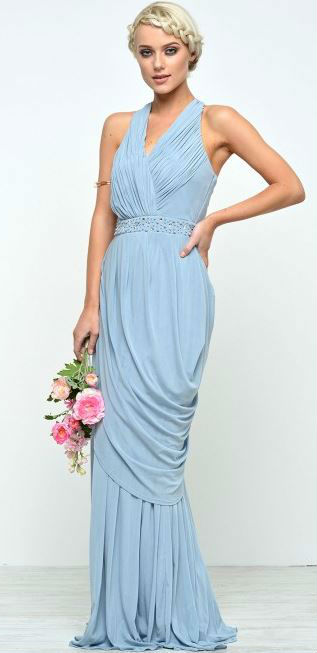 Advertised
I presume it's been reduced to make way for new stock. The colour is more spring/summer than autumn/winter, though I'd choose it for any season.
I love the 'sea lavender' shade, but it also comes in midnight blue, which may be more suitable for the colder months.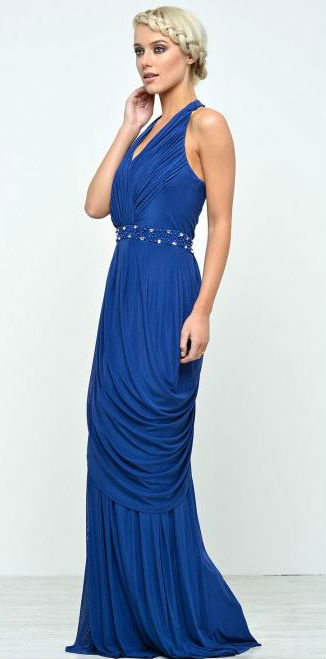 The dress is flattering on every body shape, and the cut is a little more interesting than your usual bridesmaid fare. The only problem, unfortunately, is the sizing. The sea lavender shade is now only available in a 10, while the midnight blue comes only in an 8 and 10.
Advertised
It still proves, though, that there are options for brides who don't have the budget or don't want to spend too much on the bridesmaid dresses. And luckily, sales happen so frequently now, you don't have to wait till January or then the summer.