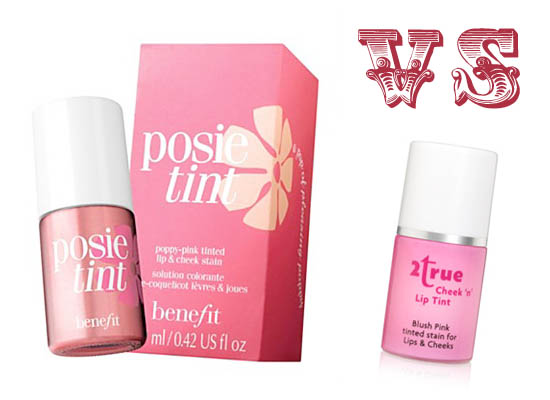 It's no secret that I'm a big fan of Benefit Posietint, so there was much wailing and gnashing of teeth when I had to use the tail end of a skinny eyeshadow brush to scrape out the last dregs from the bottom of that bottle of pink goodness last week.
Posietint is €33.50 a pop, d'you see, and while I heart it and it lasts feckin' ages, I'm a little bit post-Christmas broke and just don't have the shekles to replace it at the minute.
Mooching around the aisles of Superdrug a few days later, I espied some little bottles on the 2True stand that immediately put me in mind of my Benefit beloved and its red-tinted counterpart. Sure enough, their Cheek 'n' Lip Tint is available in two shades: Rose (sheer, reddish, decidedly Benetint-alike) and Blush Pink (bright pink in a most Posietint-ish fashion), and both colourways are a mere fraction of the price of their Benefit lookie likeys.
Well. I scooped up a bottle of Blush Pink and legged it to the tills with the quickness and spent about an hour boring Himself about the uhmazing beauty bargain dupe I'd just scored.
And, um, then I thought I'd better open the bottle and actually give it a whirl.
Advertised
It's even more shocking bright Barbie pink than Posietint, smells slightly powdery, and it's quite a bit thicker, and the brush isn't great, with random bristles sticking out at all sorts of skewways angles. It also dries quite quickly, I think, so there's even less play time than with Posietint to get the application juuust right.
Other than those minor concerns, though, 2True Cheek 'n' Lip Tint is a bit bloody brilliant and definitely punches above its price point. It's loaded with pigment, can be worn sheer or built up for a serious pop of colour, and has good lasting power.
Personally, I don't rate it for lips: the colour is too neon to suit me and it dries to an almost frosted-looking finish. However, for cheeks - and as a Beautienomic alternative to Posietint - I have to say I'm loving it.
Find Superdrug in Dublin (Tallaght & Santry), Limerick, and Wexford; clicky here for more store info.