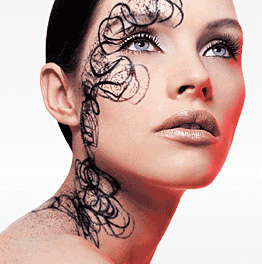 Clarins' latest coat-your-lashes offering is the Ryan Tubridy of the mascara world - it is one seriously lanky skinnymalinks. So much so that when I opened the chic metallic red casing and slid out the wand, I felt that there wasn't a hope in hell of this long, thin spiral of super short fibres doing anything for my lashes.
Trying to ignore my initial misgivings, I had a read of the accompanying blurb. Wonder Length promises glossy, long, lush, beautifully curved lashes and boasts Candelilla wax to add shine and enrich colour, a Triglyceride complex to condition and fortify lashes, and Carnauba wax for all-day wear without flaking or smudging.
Sounded good to me, so I decided to put my faith in The Science and lifted the brush to my lashes.
Straight off, there was a minor clumping scare - the proportions of the brush mean that it picks up quite a lot of mascara so you do need to be careful not to overload the wand. With this in mind, I'd no such problems with the other eye, and after that initial heart failure moment, my perseverance was rewarded with long, fluttery, blacker-than-black lashes that were individually defined and separated with a fairly decent curve to them. The slinky brush meant that I was able to get right in at the roots and also reach those poor short little lashes at the inner corner of the lashline that are usually ignored by your average sized brush (which is just downright mean given how purty they look in a swish of mascara.) An added - and unexpected - bonus of this slinkiness was that I could see and control exactly what I was at because I could actually see around the applicator.
Advertised
One of Clarins' claims for this mascara is that you can apply another coat even after the initial one has completely dried without fear of clumping. Ideal of an evening that you've to dash out to an Evint straight from work and haven't time to totally redo your face, non? Well, this is where Wonder Length falls short of wonderful: I ended up with distinctly unenviable spider legs that needed a serious going over with my trusty lash comb before I could safely emerge from the Ladies without fear of terrifying arachnaphobes.
Now, this wouldn't be the mascara you'd reach for to achieve a full-on sex kitten night time look, but as long as you don't attempt to put on your second coat after the first one's dried, it's ideal for creating flirty, Bambi-esque, you-only-prettier eyes for everyday.
Not too shabby for something that looks like a pull-through for a very teeny rifle!