 Getting your brows to look on fleek is no simple task. This little brow kit is only €12 and it gives everybody a chance at having brilliant brows.
There are lots of reasons your brows may not be quite on fleek. Instead, they could look like two black slugs on your forehead, they could look like you've drawn them on with a pen - and while technically you have - they are not supposed to look like that. I see brow disasters on a regular basis and I almost need to tie my hands behind my back not to whip out an angled liner brush to fix them.

Eyebrows should look sharp but you shouldn't see any harsh lines where you have drawn them on. You can see in the above picture brows where the shape is on the skin but you can't see any lines. It's a light natural fill of colour.
Advertised

You also want to make sure the start of the brows are left soft and fluffy even if you are doing a really strong brow. It keeps them looking unnaturally natural. If you square them off with the same strong lines as are at the tail end they will look blocky and slug-like.
Kiss Professional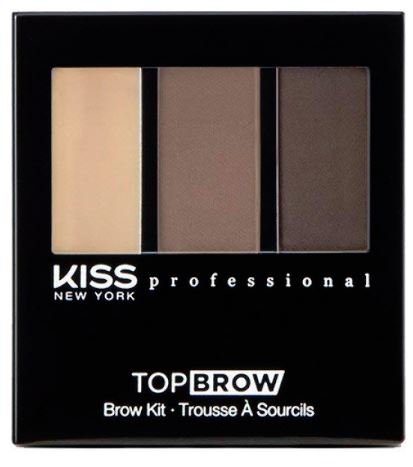 Kiss Professional Top Brow Brow Kit €12
This little brow kit gives you three little tools and three products. You have everything you need to groom the brow and draw it on to perfection. It comes with a spooley, tweezers and a slanted liner brush. Like all areas of makeup, preparation is key. You need to comb through your brows before you draw them on. So, to use this kit, begin by combing them in an upward motion with the little spooley. Next, use the slanted liner brush (which by the way, is amazing) to drag some wax through your brows. The wax helps to intensify the colour of the shadow as you apply it and makes it easier to get a sharp line under your brow and at the tail end.
Advertised
Do you like to use a brow kit like this or do you find brows easier with just a pencil?