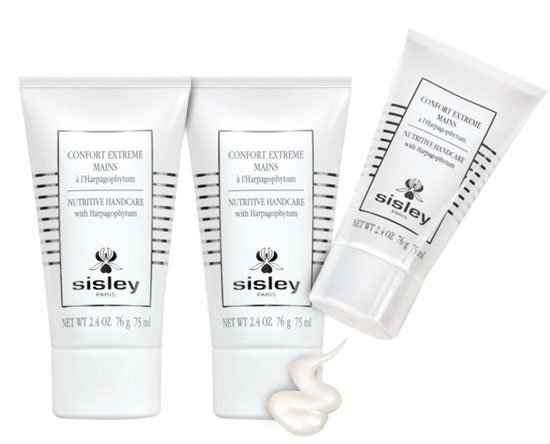 File this one away for Mothers day maybe, because Sisley's new and very gorgeous handcream, Confort Extreme Mains (or as it's called in my house 'posh handcream') is also a very luxe price, €61, to be exact.
However, handcream makes a fab gift, especially to an Irish Mammy who'd rather sit in the dark than bother you about changing the lightbulb etc. She'll *think* you didn't spend too much, cos, y'know, it's only handcream, but you'll have the smug knowledge that in fact you've given her something lovely and expensive from this very nice brand. Because after all, she's worth it.
And this is lovely stuff. Really thick and nourishing, it has the nicest lavender smell I've ever encountered in a product. No synthetic analogue of lavender, this actually smells like they waved it at a real bush of the stuff. Delish.
Advertised
About a billion skin-friendly ingredients like shea butter, extract of guava and carrot, sunflower oil, rice bran, candelilla, jojoba waxes, extract of Harpagophytum (a plant that improves joint flexibility and restores mobility to the movements of hands, fingers and wrists) plus vitamin e, *phew I have to pause to take a breath here * echinacea, essential oils of lavender and rosewood plus pro-vitamin B5 equal a product that's a super-duper hard worker that'll make a great addition to a crazy, inhibition-free spending spree.
Or of course, as a pressie for the aforementioned hard-done-by Mammy.