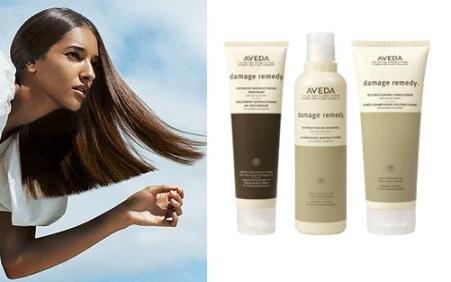 I first tried Damage Remedy Intensive Restructuring Treatment after getting a sample of it from a salesgirl who lowered her voice conspiratorially to tell me "This stuff is miraculous - seriously, I couldn't believe it was really my own hair after I used it!". My hair isn't in bad condition to begin with, so I put the sample away and forgot about it for a while, until I was going through my giant bag of samples one day and thought it must be time to at least give it a try.
I apply this as directed - combing it through my hair after shampooing, and then let it sit for 5 minutes while I finish showering. As soon as I start to rinse it out I can feel the difference in my hair - it feels smooth and soft and much more elastic than usual (to test elasticity, take a hair and pull it gently from either end while it is wet - healthy hair will feel elastic and spring back when you let it go, unhealthy hair snaps or stays stretched out). My hair dries really easily after using this too and looks as smooth and straight as it usually does only after a salon blowdry. I couldn't stop running my hands through the silky strands and was asked by a few different people if I'd had my hair done, which sold me on it.
Aveda recommends using this twice a week. Using it too often can weigh hair down and cause it to look lank, but you can work out what's best for you depending on your hairtype. My hair is not coloured and is in fairly healthy condition, but does tend to be frizzy. I don't condition after every wash - using conditioner once a week seems to work best for me. So I use Damage Remedy Intensive Restructuring Treatment only once every second week or so, particularly if I plan to use a straightener and want to protect my hair from heat damage. If you have very dry or colour-treated hair, you will probably benefit from using it more often.
Advertised
Aveda also has a shampoo and conditioner in the Damage Remedy range.
Get the intensive treatment from hqhair.com for the ultra-bargainous reduced price of €18.75 for a 125ml tube at present (in store here the price is usually around €30).