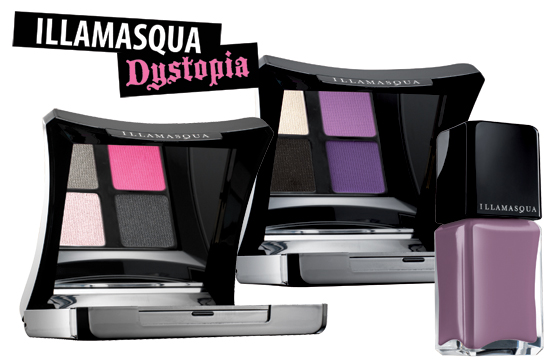 Incoming to BT2 Grafton Street on the 1st of September is Illamasqua's Dystopia collection and if at first it's pretty damn reminiscent of Aaron De Mey's first foray for Lancome, it's really only one palette (the Smokey Pink one on the left) that's almost a dead ringer for his Pink Punk and Black palette from Spring/Summer 09.
In fact, it really wouldn't be fair at all to dismiss the collection as being like anything else, because shadow quads aside, there are several really stand-out products in the range. I've had the collection for a while and am seriously enamoured with four offerings in particular. Want to know what they are? Check after the cut!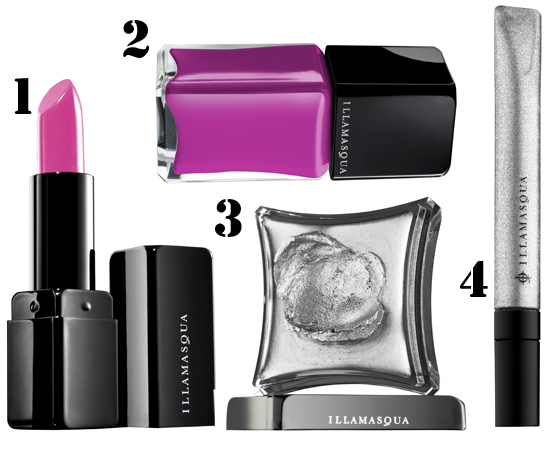 These're the four I adore:
Advertised
Lipstick in Avenge. Oh boyo - this is FLOURO to the maxXx - fabulous semi-satin finished stuff. Yes it makes my teeth yellow. No I don't care.
Nail varnish in Obsess. A proper, shiny, slag-tastic pink. Love it.
Liquid Metal in Phenomena. I love these Liquid Metals that Illamasqua do - they're incredibly pigmented and appear on the skin like metallic leaf - you have to see 'em to believe 'em
Intense Lipgloss in Galactic. And my is this intense. You know the way you often buy a very bright gloss only for it to disappear on the lips? Not a problem here. This is pretty much solid silver and can be used on the face and eyes too. A totally stellar, transformative product, if you ask me. One you might not use too often, but one you'll be glad you have in your kit.
Now the thing you'll all want to know -prices:
Lipstick - €17
Eye shadow palette - €40
Nail Varnish - €15
Lip gloss - €15
Pure pigment - €18
Eye shadow - €17 o