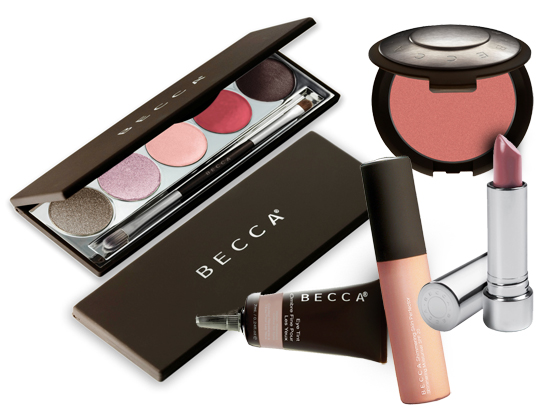 We've already told you that Australian brand Becca is back in Ireland after a hiatus of a year or so  - it had been at Harvey Nichols, but has now found a new home in Arnotts recently renovated beauty hall. I know lots of you are fans so you'll be pleased to hear about the Showgirl Collection, eh?
Above you can see the star of the collection: it's the Showgirl Palette, a limited edition cheek, eye and lip palette that's €69.  Beside it you'll see Soft Touch Blush in Songbird (a bright orange-pink) which is €32, and a great sub for scary Coralista. Below and to the right is a new Sheer Tint Lip Colour in Tatiana, a sheer raspberry red. It's €28. To its left is Shimmering Skin Perfector in Opal. It's a peach-gold shimmer you apply over your base for dewy gorgeousness, and it'll set you back €45. Lastly we have another newbie, Eye Tint in Lapis, a mauve pink matte shade. At €25, this is a cream-to-powder formulation that's water- and crease-resistant.
Advertised
Whaddya reckon? Will you pick anything up?