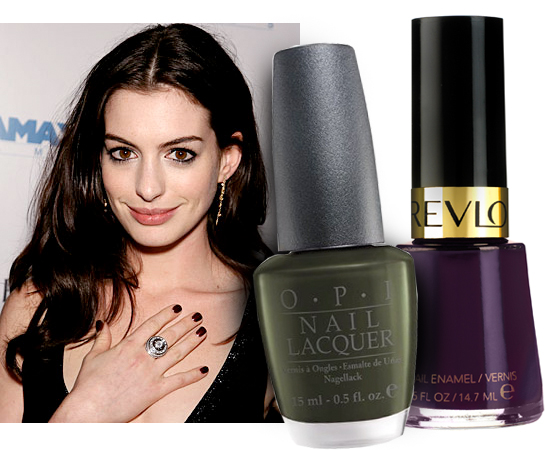 If you've been watching X Factor or seen the photees of Aphrodite at the Dublin or Cork buke launches, you'll know that dark nail varnish is hot right now. There is just no getting away from so-dark-they-nearly-look-black colours like midnight greens, navys or plums this season, and I have a couple of tips to make sure your nails can wear them well.
For the most part, dark colours look best on very short nails. You risk running into Morticia Adams or on-trend hooker territory if talons are left long. Preparation is key - you'll need a good base coat to prevent the kind of terrible staining that dark varnishes can be responsible for on bare nails. A base coat that fills ridges will do triple duty by preventing staining, prolonging your paint job, and giving you a smooth foundation to help you achieve the ultimate glossy finish.
When it comes to applying the colour itself, go for the usual two coats, fairly thinly applied, rather than just throwing on one thick layer. Take care in the application, as you want to stay well clear of the cuticles and the edges of the nail. There are two reasons for this: to prevent staining of the skin around the nails, and to give a cleaner, tidier, more elegant silhouette. It takes a particularly steady hand or a bit of practice to achieve this freehand, so keep a couple of cotton buds (or a mini manicure brush or a corrector pen) and some nail varnish remover at the ready for tidying up, if necessary. Running the edge of the nail varnish brush across the free edge of the nail when you're wearing dark nail varnish will help to keep chips at bay.
Advertised
Top things off with a top coat, taken right down over the free edge to really seal the deal and make sure your mani looks glossy for as long as possible. (Unless, of course, you're into the matte look!)