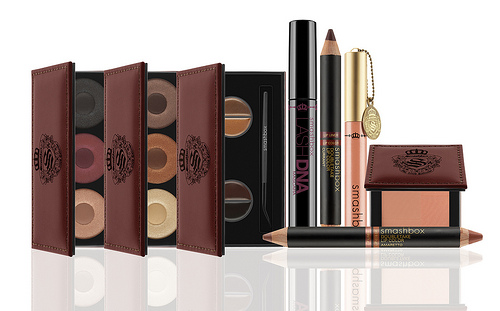 Inspired by the decadence and extravagance of The Tudors, Smashbox have released a lustworthy new colour collection for Autumn. Appropriately enough, it's called Reign and features make-up in dramatic and rich hues and luxurious faux-leather packaging embossed with a regal-looking crest.
Swish.
There's a pair of eyeshadow palettes called Monarch and Majesty which house three dual-finish shades apiece. At €45 a pop, they ain't cheap, but you do get each eyeshadow in a matte and a shimmer finish for those Eurobucks. In Majesty, you'll find champagne, cabernet and black hues, while Monarch contains shades of gold, oh so on-trend copper, and deep brown. There's a palette dedicated solely to four metallic gel-based eyeliners and a mini arced eyeliner brush, €49. There's also a limited edition plum version of Lash DNA mascara called Plum Bejewel, a double-ended lip colour (both €22), and Crowned, a peachy pink lipgloss (€18). And, last but not least, there's Fusion Blush in Regal, a dual tone peachy blusher made up of both matte and shimmer sections (€33).
Advertised
And availability? Why, the collection is on-counter now, m'lady.