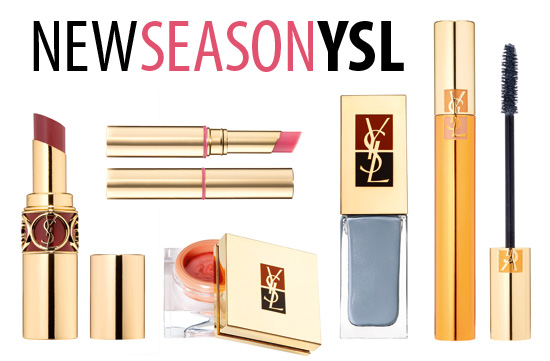 My favourite time of the year is right now. It's not cos it's the summer. It's not because of the weather (ha!). It's because right now is when all the autumn winter collections launch, and I'm with xgirl on this: winter makeup is way more my cupan tae than summer. I'm much more of a winter dresser too, and can't be getting down with flirty flittergibberty summer outfits at all at all.
Needless to say, I was a happy Beaut.ie skipping along on my trotters to meet the wonderful lady who represents Yves Saint Laurent on Monday evening. Why? Cos she was going to show me the new season collection, and hands up, there's a rare collection I look forward to more than YSL's.
Everything is gorgeous: packaging, textures and colours are always oohhaaable and aaaaahable, and this collection has something new at its core that's very close to my heart: blusher.
Check it out there, second from left. Creme de Blush is beaaauuuriful:  in three shades (Velvety Peach, Powdery Pink and Silky Praline) the former two are oh-so right up my street, and I've been trialling Powdery Pink over the last couple of days. A silicone-packed texture and lots of easily-blended pigment make these an excellent luxe purchase. The cost? Well, this is luxury brand YSL, so they're a pocket un-friendly €42, and they're limited, so you know the drill.
There's one other new innovation joining the catalogue collection: Gloss Volupte (lying on its side in the pic above), in four juicy shades (Iced Lychee, Chilled Raspberry, Frozen Cherry and Frosted Plum), will deliver sheer shine and a mango taste. €30 of your monies for those babies.
Advertised
What else is on offer? In addition to two eye shadow quintets, €57, and a very-YSL limited edition face powder compact (not shown), €51, there are a fair few things joining the permanent lineup:
Four new Rouge Volupte shades (19, 20, 21,22) join the existing lineup, €31
Two new Ombres Duolumieres (shadow duos) in Anise Green/Intense Plum and Pearly Peach/Brown Mink, €40
Luxurious Mascara in Sublime Grey, €31
La Laque in Extreme Purple, €24
Apart from the blush, there are two products that really grab my attention. One is the limited Stormy Grey La Laque nail polish, and it's €24. The second is the mascara - grey is seriously hot in beauty terms for Autumn, and I can't wait to give it a shot.
The collection launches on counter on August 29th 2009.