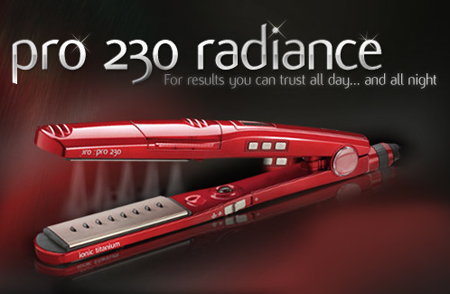 Lynnie's told us recently about a really good GHD offer, and if you're a straightener fan, it's definitely the brand you think of first.  But you know what, I've never bowed down at the altar of GHD.  It's probably my innate contrariness, but I've always looked elswhere and have owned two BaByliss ones, as well as a Charles Worthington affair that was really quite fancy. My first BaByliss was a steam straightener and I really liked it - though using non-tap water would probably have worked better, as living in a hard water area fecked it up good and proper. So when I was sent the brand's newest and fanciest straightener, the Pro 230 Radiance, I was only gagging to give it a go.
It's red. Point one in its favour. It comes in a clutch-style case that opens out to become a heat-proof mat. Check two. It's chock-full of fabillis steamy bits, all down the middle of the plate, giving you a super-duper sleek finish. In fact, the company claim it'll straighten hair for twice as long as the competition.  Check three.
I like it muchly. The only negative I can find is the problem I had with my previous steam straightener - the limescale issue. But I reckon if I use filtered/bottled water then all will be well, and my hair will continue to be smooth and shiny for many moons to come.
Advertised
You can read tons more about it on its own dedicated website. Where to buy? Argos and Boots will sort you out, and the damage is €125.