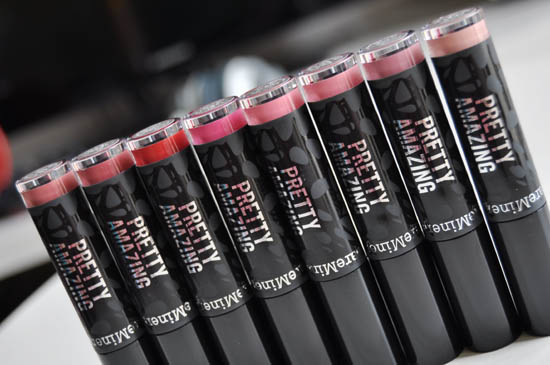 Love lipstick? Oh yes, me! Me! ME!
If you too love lipstick and you plump for Chanel's completely bleedin' stellar Rouge Allure Laque as well then I am telling you now you're gonna adore Bare Escentuals June 1st-launching Pretty Amazing lip colours. It's a big name, isn't it, and they could be setting themselves up for a fall with this product that's, y'know, not a lipgloss and yet neither a lipstick.
A hybrid, Pretty Amazing is actually gorgeous - unctuous enough to be comfortable on lips, these wands have the depth of a regular lippy but a lot of the slip and shine of a gloss. They tick a lot of boxes, and at €18, they're a lot more palatable price-wise than Chanel too, but I dare you to tell the difference once they're on the lips.
The other thing? These make a terrific antidote to all this seasons sheeny, sheer hints of tints from brands like No7 and Poppy King and Shiseido. Sure, I'm down with the new breed of glossStick, they're lovely - but this is pure, unadulterated colour. And I say YAY for it.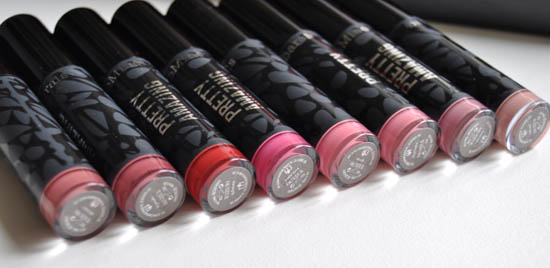 Courage, Bravado, Strength, Ambition, Moxie, Charisma, Fearless and Free Will
Creamy, thick and fully opaque, eight shades make up the Pretty Amazing range and honest to God, I haven't been so swayed by a product launch for a while.  I reckoned I'd like 'em alright, but using them was all the proof this pudding needed.
Ok, so there's a little bit of inconsistency texture-wise across the shades - of the few I've trialled properly at this stage, I found the red to be a bit more fluid than one particular pink, Moxie, which was a bit thick and draggy - but all told, hey, it's a small thing. These are fully-formed liquid lipsticks which coat lips in cushiony colour, give a gleam that's really pretty, are non-sticky and which hang about for a decent amount of time. I wore Moxie, a retro slag pink, out to dinner last Saturday and reapplied once all night; that was fine.
If I was being super nit-picky I'd say the colour wore off slightly unevenly - but then, so does regular lipstick.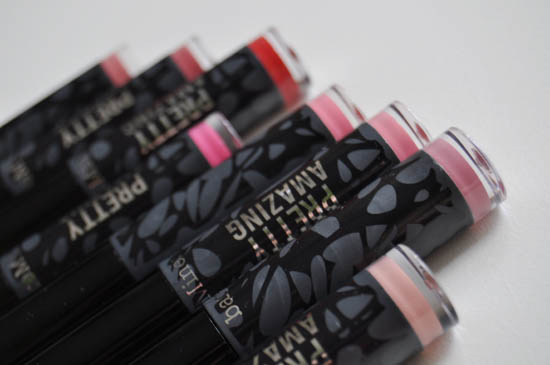 Advertised
Plus, look at 'em. Pretty packaging, eh?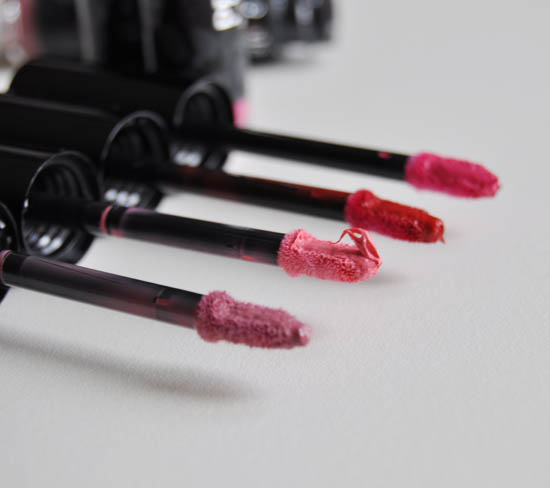 So, you can see the texture of the lip colours here - and there's that pink, Moxie, I was talking about. It's noticeably stiffer than the others. Could be a fluke, could just be its particular formulation, but whatever - it's a great colour so I'll let it away with it.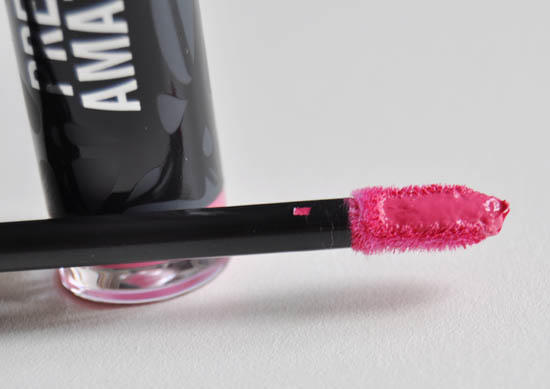 Here's the wand. It's a standard doefoot but where you can see a bigger concentration of product is actually where the wand has a slight scoop; this acts as a reservoir for the gloop and it also hugs the lip contour, so they're very nice to use.
This is a glam product to use and wear - make no mistake about it.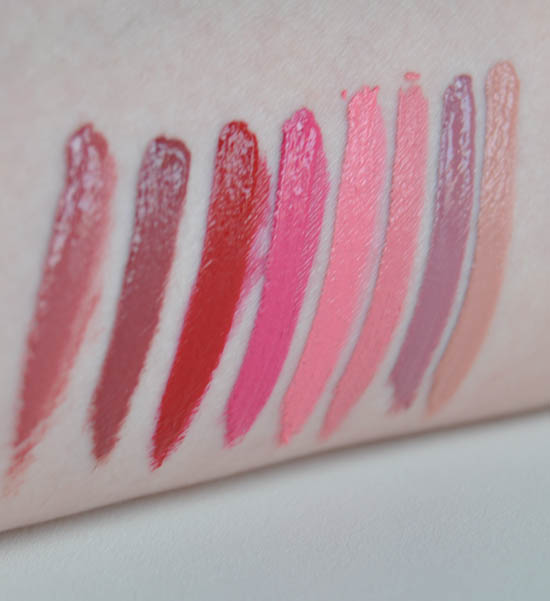 So, the all-important swatches. Happily, Bare Escentuals sent me the range (God I love it when I get a whole range because then I can draw all over myself for you!), so I've swatched 'em here.
From left to right we have Courage, Bravado, Strength, Ambition, Moxie, Charisma, Fearless and Free Will.
Advertised
So, last things: these are unscented and contain hyaluronic acid, which helps with moisturisation, meaning they don't dry lips out. So, whaddya reckon? Will you check 'em out when they land? And on that note, Bare Escentuals is found at BT2 stores and at salons nationwide, so keep your eyes peeled.