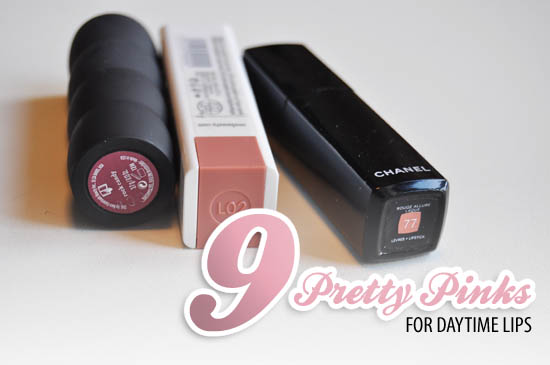 I'll insert a caveat before I begin: yes, this post is titled '9 Work Appropriate Pink Lipsticks' and uhuh, I do know not everyone has to wear sedate shades to their workplace. I don't - I work in, um, "the media" and from home, so I can pretty much please my red-pouted self. Similarly, there's no great need or desire to tone down your slap for lots of other jobs but for some there is - like finance, banking or customer service.
And in any case, it's always good to keep the big guns for night time and so I do have a variety of pinks that I wear between the hours of nine to six. As always when I do these posts, some of 'em may not be still available, so use this as inspiration and not necessarily the rule of law that you must purchase by!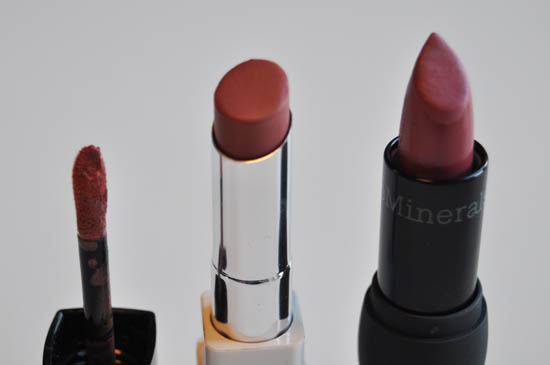 So, the first three. From the left, we have something that's not *technically* a lipstick, I know, but this is only gorgeous and has good lasting power. It's Rouge Allure Laque in 77, and it's a coraly-pinky liquid lipstick that's very pretty for day. Next up?  Xgirl's told you before about her fondness for Une's Lip-Toned Colour lipsticks and this one, L02, is a case of 'does what it says on the tin'. It's a good nude, non-shimmery, gives a matte-to-slightly-satin finish with medium coverage and is very easy to wear.
The last here is a Bare Minerals lipstick in Rock Candy. Really weighty packaging on this one and unlike the other two, it's not fragranced. In fact it doesn't smell that nice but has a good deep result and a satin finish. It's very good for work, and you'll pretty much get full lip-coverage from this.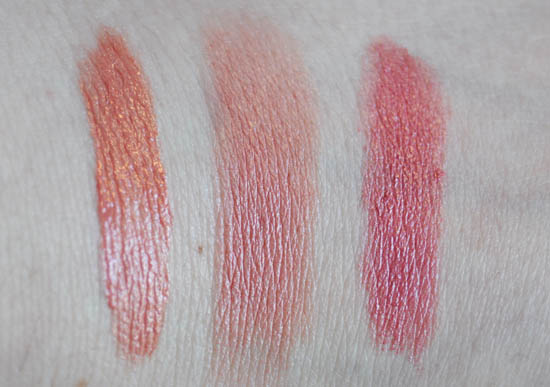 In the same order, here are Chanel Rouge Allure Laque in 77, Une Lip Toned Colour in L02 and Bare Minerals Rock Candy.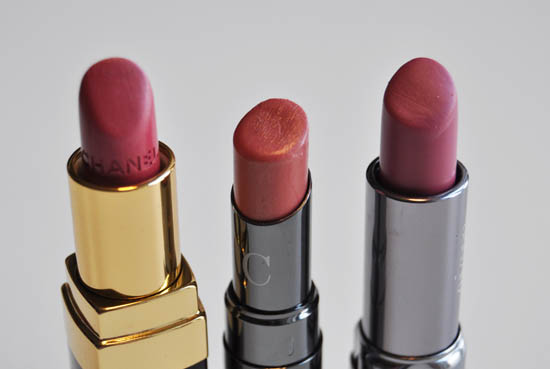 Next up, another Chanel. I don't actually own any bright Chanel lipstick shades and this one is Rouge Coco in Legende. I wouldn't say I adore this, but it has decent longevity and I pass over it a lot but the odd time I'm in the mood.  It has a slightly tacky texture and a medium opacity. Beside is is a Chantecaille Lip Chic in Cameillia. Hideously expensive, these fellers are, but this is a lovely product. It's very comfy in wear and gives a sheer, glossy finish. Doesn't last kissin' time, however.
Advertised
Number three here is Shiseido Perfect Rouge in RS326. I really love this. It's very subtle, slightly glossy and very pretty. Again, crap longevity with it but I still like it a huge amount anyway.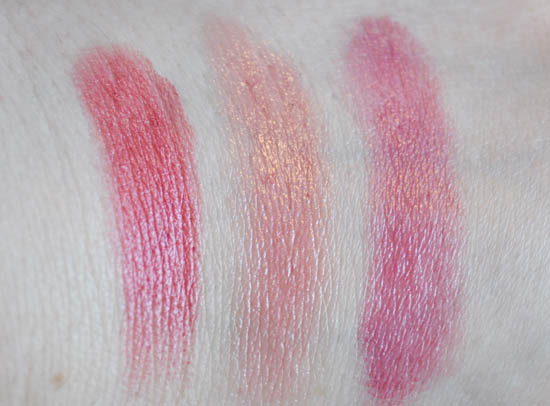 And again, in the same order, we have swatches for Chanel Rouge Coco in Legende, Chantecaille Lip Chic in Cameillia and Shiseido Perfect Rouge in RS326.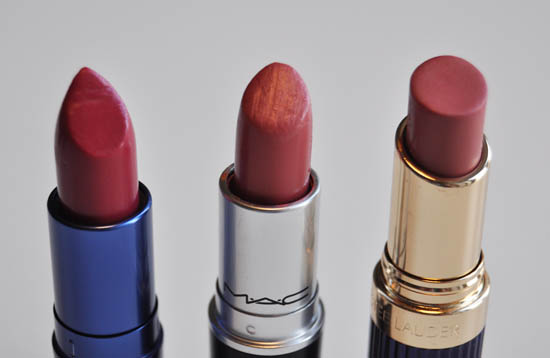 My final trio:  Lipstick Queen Jean Queen lipstick is designed to be the perfect shade to do with denim (no, really) but happily it works well for day too.  Check the swatch below and you can see it's very similar to the Chantecaille offering  - both brands are at SpaceNK, by the way.
Beside it is a Mac reliable. This a Cremesheen in Fanfare. It's a permanent line product (sing hosannas) and Mac describes it as puzzling mid-tone yellow pink. Er, right so. It's PINK. I love the Cremesheen texture - it's creamy with lots of colour, a slightly glossy satin finish and it's soft and very comfortable. That also means the bullets are prone to breaking inside the tube, which is an annoyance.
Lastly, here's a new Estee Lauder product. Picking up from Mac's recent Pro Longwear Lipcreme line, this is DoubleWear Stay in Place Lipstick in Stay Blush. It's incredibly similar to the Mac version, except a bit more tacky on the lips. I don't honestly think it lasts that long and I don't love the texture either, but the shade is great.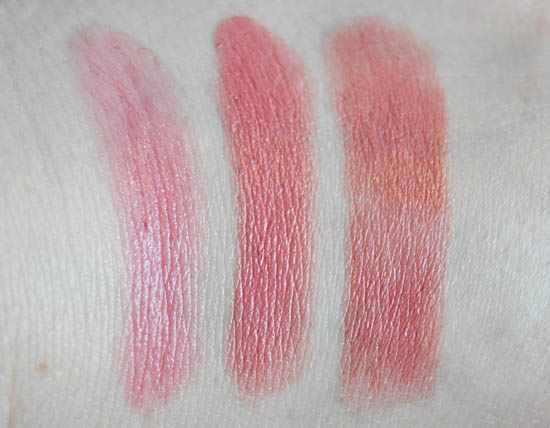 And here be swatches: Lipstick Queen Jean Queen lipstick, Mac Cremesheen in Fanfare and DoubleWear Stay in Place Lipstick in Stay Blush.
Advertised
Whaddya think? Got any of the above or do you have a favourite soft pink shade you're mad about?