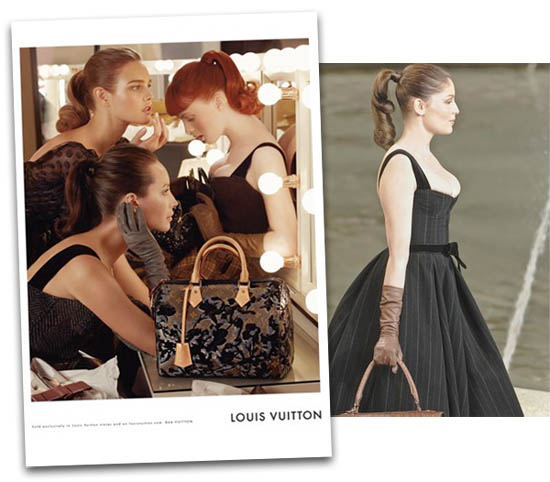 There were lots of perfectly coiffed blow-dries in evidence at the SS11 shows, which is great if you happen to have a hairdresser on standby 24/7 or have mastered the art of the home blow-dry and have the sort of hair that doesn't just go ratty-looking at the ends after a couple of hours.
Handily for anyone who'd rather sling their hair up out of the way, thanks, the good ol' ponytail is sticking around for the foreseeable.
My favourite take on the ponytail was the perfect '50s Betty Draper-stylee versions at the AW10 Louis Vuitton show, which were sleek but not dead flat at the roots and smooth all the way down to the slight curl at the ends.
To get the look, work a volumising product into damp hair at the roots and blast dry hair with your head upside down. Finish blowdrying with a  round barrel brush to smooth locks without flattening that volume you've been encouraging into existence. If you're working on second-day hair, get busy with a backcombing brush instead, but remember that you're just after some height at the roots rather than a full-on beehive or quiff.
Use your fingers (or a brush, if your hair needs extra encouragement) to pull hair straight back from your face - there should be no parting. Tilt your head back as you do; pointing your chin skywards like this should help to prevent that wreck-the-head bump that can appear between the ponytail and nape of the neck.
Advertised
Tie hair up just below the crown of the head with a slim bobbin, hair elastic or hair bungee: too low and it'll look casual, too high and it'll look like you're attempting an Essex facelift. For any lumps or bumps that arise on the crown, try using the skinny tail-end of a comb to deal with them rather than starting again. Hold the comb horizontally, insert the pointed tail into the hair in front of the offending lump, and slide back towards the crown.
The easiest way to get those curls at the end is to just use a large curling tongs.
To finish, take a piece of hair from the ponytail about 1/2" to 1" thick, wrap it around the band, and pin, before using hairspray to hold everything in place. To tame any pesky flyaways, rub a really small amount of serum between the palms of the hands and smooth gently over the hairline to avoid flattening the crown.
Pix via wwd.com