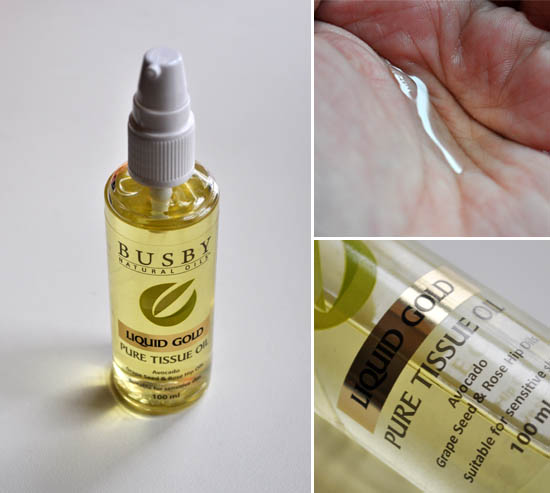 Taking delivery of a tissue oil recently sent as a press sample from Busby Natural Oils, I was more than a bit grossed out by the name. Tissue! Blee! Anything to do with the word 'tissue' makes me think of hospitals and gruesome procedures - open heart surgery, wounds, biopsies, suppurating sores and that - so I felt kinda gick about it.
A bit of a Google revealed that in South Africa, where the Busby brand originates, tissue oils are really popular in skincare, but I couldn't get a good handle on y'know, what makes an oil a tissue oil as opposed to just ... an oil.
So I decided to ask a native. Cindy, the lady behind the Girl With a Skew-Earring blog was a natural fit. A South African living in Ireland, she's a regular user of tissue oils which she has her mum send her from home. So, what makes an oil a tissue oil then? I asked her, "is a tissue oil is just a South African term for any sort of oil you can use on the skin?," to which she replied, "In a word, yes. But it's not really considered a tissue oil unless it's a blend of different oils. Otherwise it's just cold pressed almond oil."
Aha. And Busby Liquid Gold (the subject of this post, now we're finally getting to it) is precisely that, being a mix of avocado, grape seed and rosehip oils with no mineral oil fillers. It's also bargainous: there's a 15ml spray for just €3.95 as well as a 100ml bottle, which I'm using, for €14.95. That's considerably cheaper than most botanical oil blends on the market.
I'm fond of a blend - I love Liz Earle's Superskin concentrate and Darphin's 8 Flower Nectar is also a beautiful product. This doesn't pack the same punch as those but neither does it assault your purse. As far as I'm aware grape seed oil is the biggest component here and it's high in antioxidants and omega oils, so it's a boon for skin. Supported by vitamin E, avocado and rosehip, this is a nice mix that Busby say is clinically proven to improve the appearance of scars, stretch marks, dehydrated, ageing akin.
Advertised
And the clinical trial? Conducted at the Derma Consult Institute in Germany, they tested the effectiveness of Liquid Gold and found it boosts skin hydration by 43% and improves skin smoothness by 17%. 15% reported improved firmness as well as a 14% reduction in wrinkle depth.
I quite liked this - it doesn't feel as fine and 'botanical' as pure rosehip, for example, and doesn't absorb as well or as quickly into the skin, plus there's a slightly artificial scent I wasn't madly keen on. But it did do nice things for my complexion - it definitely helped with hydration and it did make skin feel soft and smooth.  If you're eager to try an oil but not willing to spend a lot of money, then yeah, give Busby Liquid Gold a go - it's at pharmacies now.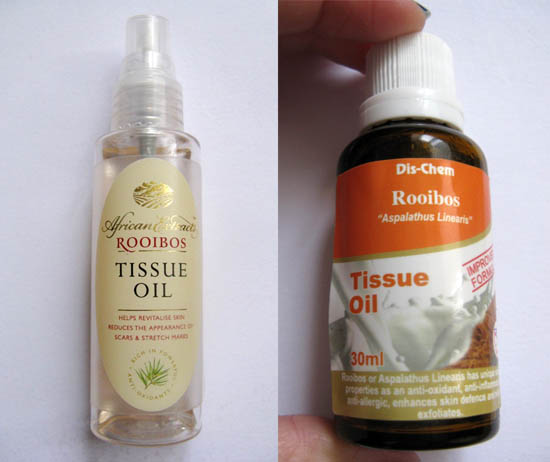 Back to Cindy: in South Africa, where tissue oils are so popular, what others does she rate? "If you walk into any chemist in South Africa - especially Dischem which is like Boots here - you will be greeted by a whole array of different tissue oils for use on different things. My go-to for face is an own brand one from Dischem (right) and it's got added Rooibos extract. It smells lovely, is extremely smooth and soft and spreads and absorbs quickly without leaving me feeling too oily. I use this three or four times a week, at night, and depending on how my skin feels I might forgo night cream when I use this. It costs about €7 for 30mls."
Anything else? "The other one my mom sent me to use is also one with rooibos extract in it, African Extracts, (left) but it smells like cooking oil. I use this on my shins and fingers (at night) and any other dry skin areas. I also use this on my daughter's eczema when it is in its early flakey-skin stage and it seems to help lessen the severity of her outbreaks. I have also used it on my hair when  it felt like it needed a bit of TLC. It costs about €5 for 60mls."
Advertised
Interestingly, Cindy classifies Bio Oil as a tissue oil too, and where we might only use oil on our facial skin, in South Africa, they lash it on all over. "Tissue oils have featured in my life from early on," Cindy confirms, and she uses them for scars, cuts, grazes, and shaving.But for all that she loves them, she's got a warning for us.
"Honestly, I am not sure that it's just the oils that can be attributed to skin improvement. It's also not an instant fix. You are instructed to massage the oils into the skin: massage stimulates circulation and circulation is great to improve skin tone and condition. Obviously the oils are fantastic for dry skin conditions, but you need to use them on a daily basis to see the benefits."
Check Cindy's blog out at girlwiththeskewearring.blogspot.com for lots of budget skin, hair and makeup picks.