 Now that autumn has arrived, it's time for us to make changes to our beauty routine. We wave goodbye to neon and in come the deep rich berry tones, while stronger scents replace our more fruity summer versions. And likewise we need to overhaul our skincare products to ensure that they are protecting us against the ravages of central heating and the cold winds.
Ok, we're not quite there just yet. But I wanted to give my skin a fresh start and peel away the layers of suncream, sand, and makeup that have built up over the last few months. Now, you could shell out for a salon appointment but in the interests of Beaut.ienomics, I decided to opt for an at-home option.
Philosophy is a brand that we've looked at before on Beaut.ie (you can check out our review of their Triple Acid Peel and Sunscreen here) but the Microdelivery Two-Step At-Home Peel has been on my radar for a while. It's not a new product but it sounded like it would be perfect for my chez moi pampering session.
The PR spiel is that it's 'a two-step, in-home peel that dramatically rejuvenates the appearance of sun-damaged, hyperpigmented and aging skin.'
So shall we take a look at exactly we are getting for our shekels?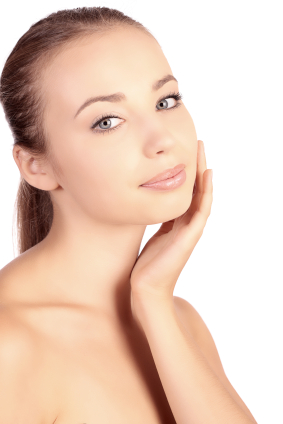 The kit contains two items.
This involves exfoliating the face with vitamin C/peptide crystals to help remove the dead skin. It had a lovely orange, zesty scent which my boyfriend insisted smelt like Rubex (he also insisted on trying it as well, but that's another day's story). You massage the exfoliating crystals into your skin for sixty seconds. At this point, while pleasant, it didn't seem different to any other physical exfoliator that I'd ever used.
Advertised
But be warned - this is a proper old-school physical exfoliant and as such is on the naughty list of many a sensitive skinned soul. While it is recommend that you 'massage' as opposed to scrub, if you are a fan of chemical or enzyme exfoliant then I would advise that you steer clear.
The second step involves the application of a gel.  And a word of caution here, it's extremely runny so be careful that you don't get too much in your hand so that it dribbles all over the floor. This may or may not have happened to me.
The gel contains lactic and salicylic acid which are on the gentle end of the peel-ingredient spectrum, making it perfect for at-home use.  You pat the gel over the crystals and instantly you get this bizarre, but not unpleasant, warming sensation on your face that fades quite quickly.
The mixture also foams up and you can massage in this foam for greater effect if you wish or leave it as is if you have Foam Fear (it's a valid fear here at Beautie Towers). If your skin is on the dry side then I wouldn't massage it in any further, just leave it to sit. But if you are dealing with an oil slick, then an extra massage might be just the maintenance that your skin needs. Then after two to three mins of looking at the mess you've made on the floor, you rinse it all off.
Immediately upon rinsing, I noticed that my skin was extremely soft, and I mean baby's booty soft.  I couldn't see a huge difference right away in my skin's actual appearance, but over the following two days, while I was doing my makeup, or catching a glimpse of myself in the car mirror, I definitely did notice an improvement in the texture of my skin and the fine lines.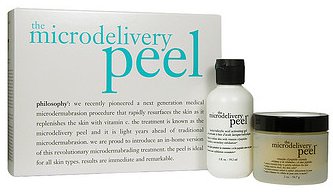 I'm very happy with the results and can see myself adding this to my regular skincare routine.  They recommend a weekly application and to be honest, I can't wait to use it again. Yes, I'm planning on peeling myself a new face for Christmas!
Advertised
The recommended retail price is €75 /£59.50 (you'll find it in Arnotts, Dublin and online;  www.debenhams.ie and www.philosophyskincare.co.uk) and while the kit isn't cheap, each package contains an average of ten applications. And we all know that one facial in a salon can certainly cost that, so I'm saving money, right? Right?
Do you use at-home peels? Or do you think this is just an exfoliation wearing the emperor's new clothes? Tell us your thoughts in the comments!