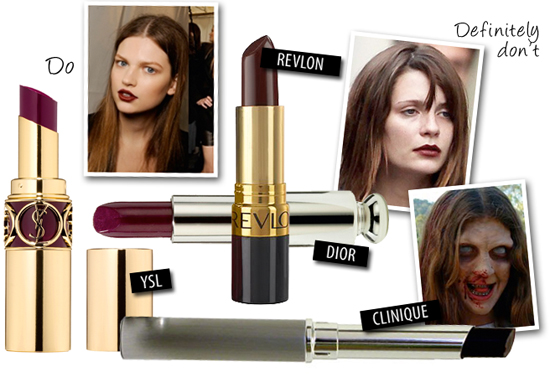 This year, eh, much like every year, dark lips are back in for autumn/winter. Sometimes I really despair at the lack of imagination on the part of beauty brands but sure at least I know what I'll be writing about come September, so thanks for that, lads.
Deep, dark plums and burgundies are the shade du jour this time round and there are some really nice ones on counter: YSL have launched a new Rouge Volupte in shade 22. It's a creamy, satin-finished burgundy with a bit of brown and looks and feels good on. I just love these lipsticks, they're absolutely excellent. Dior's Addict Lip Colour in Decadent Plum is €28 and is a little more violet-toned than YSL's offering - ooh and it has some sparkle and a hint of a tint of iridiscence. Yum  - it's very pretty and definitely my pick of the four.
On the cheaper end of things is Revlon's Black Cherry, which is under €10 and gives a great result for the price. But not everyone likes really dark shades and in that case, check out Clinique's Almost Lipstick in Black Honey, €19. It delivers a sheer finish with a much lighter result, so much easier to wear.
Advertised
Lastly - eh, how do you rock this look?
Not like Mischa Barton, anyway. Dark lips need to be worn with a really groomed finish for them to look elegant and not emo.  Gorgeous and not goth - yeah, you see where I'm going with this. Mischa looks bedraggled and washed out, but the chick over there on the left looks good because her base is flawless and her hair is sleek. So, lets take a leaf from her book, eh?