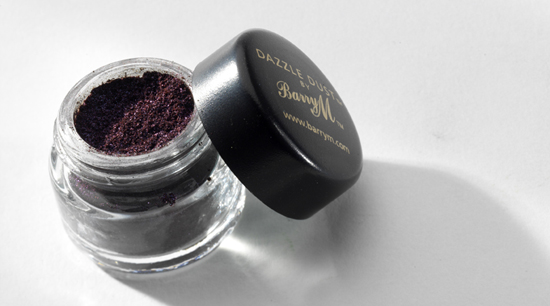 First, a caveat: the actual shadow doesn't really bear much resemblance to the pic above, being a deep browny/black shot through with a lot of iridescent blue and purple sparkle. It's very pretty and really quite special In The Flesh.
And now, on to bid'ness.
While I appreciate Barry M's incredible colour range and ability to square up to MAC in terms of cheap, boldly coloured products, there's one thing that's put me off the Dazzle Dust line a bit over the years, and that's the fact a lot of them are so shimmery. I don't like shimmer much. I'm not a Sky newsreader, I don't put pearlised blues and whites right to my eyebrows, and in short, as a matte kinda gal, I find it a wee bit tacky.
Advertised
BUT (you knew there was a but)  I have been checking out a couple of the brand's newest Dazzle Dusts and I have really fallen for Petrol Black, or 98, which is how you'll identify it by the label on the pot.  As a fan of NARS' beautiful Night Clubbing and Night Flight shadows, I reckon this is no mean dupe.
It makes a beautiful, dimensional smokey eye with a sophisticated sparkle, and held in place with a primer like Too Faced's Shadow Insurance (something I really must blog about soon), has longevity too. In short, for €6.95, you really can't go wrong.  Big thumbs up.