 I'm a sucker for a good top coat. It will cover all manner of sins (including those weird bumpy indentations you wake up with if you do your nails too close to bedtime), increase the longevity of your polish, and generally make the whole finish more professional looking.
Not all top coats are born equal, though. There's something pretty intoxicating about that gloriously plump looking, glossy finish you get from the top coat on a two week gel manicure. Women seem to universally adore it, and brands have been competing for some years to recreate the finish in an at-home top coat without a UV light. As a coinnoseur of top coats (I originally started keeping my nails polished as part of a hand care regime in a bid to stop my nervous habit of picking them; it worked. Mostly). Here are some of the best I've found on my quest for the perfect top coat.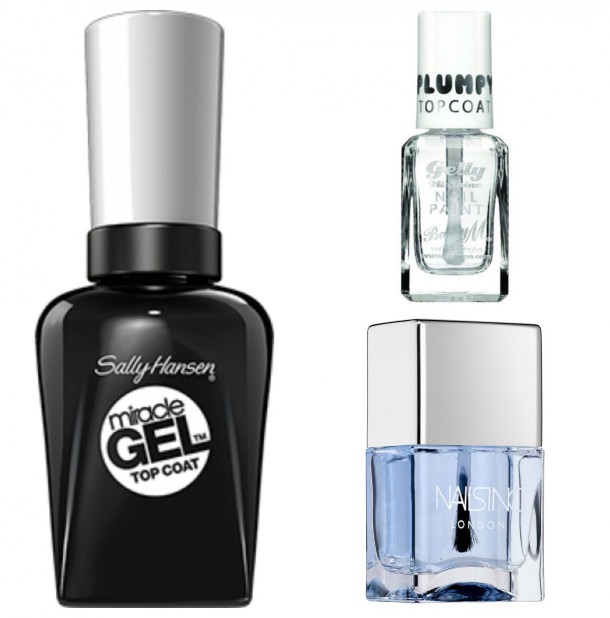 Sally Hansen Miracle Gel Top Coat (€8.99)
Sally Hansen can always be relied upon for great nail products. Miracle Gel is a whole range of products designed to last longer and look a little shinier than standard polish. The top coat is one of the best. No regular polish is going to last two weeks - at least not if you're doing everyday things like washing up or picking at the edge of the sellotape - but it will get you through a week and any chips after that point are small. I can't stand polishes that come off in huge chunks.
Barry M Plumpy Top Coat (€4.49)
I'll be honest. I like this one for the name more than anything, followed quickly by the value. Though it has the shortest life on the nails of all the top coats on this list, it has a habit of cracking rather than chipping (after four of five days), and is a bargain at under €5. If you're waiting on payday and want a plumping top coat, this is the one for you.
Nails Inc Kensington Caviar Top Coat (€18)
This top coat is the most expensive on the list, and unfortunately also my favourite. The finish comes closest to the UV set top coat of a professional two-week mani. The formulation is thick, which is what makes the finish so fat and lovely, but there is a drawback.
Advertised
The thick formulation tends to go stringy after about three or four months, and becomes difficult to apply. Since I'm a nail polish lover, I'll polish mine once or twice a week, so I use up most of the bottle before it gets stringy. Also, on the nails, this will last a very long time unchipped (the longest it's lasted on me is eleven days!). It has shortcomings, but the finish looks the best. Only real nail obsessives will think the investment is worth it.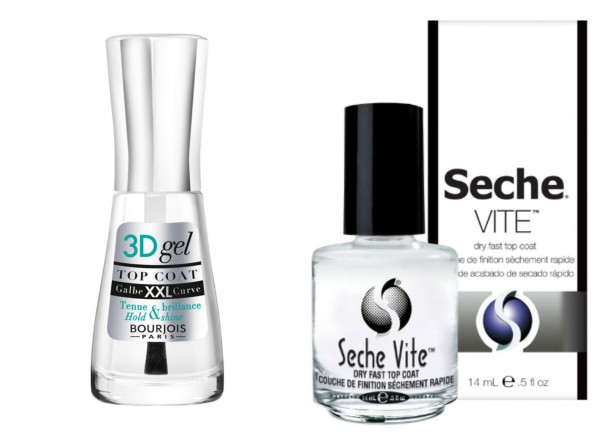 Bourjois 3D Gel Top Coat (€7.99)
I love this top coat. It isn't super cheap, but it is worth the price. The wide brush allows you to coat the nail in one sweep, and the finish is less plump than the Nails Inc. product, but plumper than Barry M. This has a seriously glossy finish (which fills me with joy), and it will last up to a week, which is good going!
Seche Vite Dry Fast Top Coat (€13.99)
I love having polished nails (they're something nice to look at while you type or listen to Maeve in your office talk about how the filing system should be, but waiting for them to dry is for people who have nothing to do, and I don't know anyone who fits that description.
Seche Vite is ingenius. No more claw hands as you try to shuffle into your coat and freak out when you have to open your wallet to get your leap card, or take your phone out. Whack it on, witness the gloss, and you're ready to go in half the time of a standard top coat. Unless you work in a quarry, this will give you five solid chip-free days. It's great.
Which is your ultimate top coat? And are you sick of making claw hands? To the comments!
Advertised