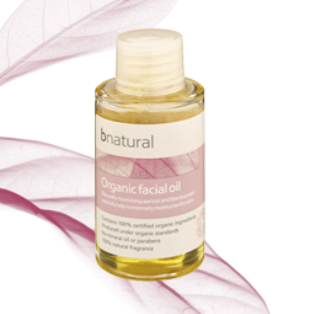 Facial oils can often be pretty spendy prospects, and even my recession-friendly approach to switch from Darphin 8 Flower Nectar (over €100) to Liz Earle's Superskin Concentrate, less than half the price at about €40ish, wasn't particularly bargain-tastic. 40-odd is still pretty expensive by most people's standards, so I've been looking for something a bit cheaper.
Aphrodite and I recently took ourselves into Tesco and spent a fortune stocking up on budget buys - we wanted to see if there was anything decent at that end of the market. I've been scoring more misses than hits, I'm sorry to say - but Tesco's bNatural Organic Facial Oil was one I had high hopes for. It's under a tenner for 30ml, widely available and has Soil Association certification - all great things in its favour.
And sure, case closed - oil is oil is oil, yeah? Well, actually no. This product uses sunflower seed oil as its main ingredient and it also includes apricot kernel oil and olive fruit oil. Contrast that with Darphin's ultra-conditioning blend and Liz Earle's use of regenerating and super-duper-moisturising argan and avocado oils as well as rosehip and vitamim E, and sure this poor bugger can't compete.
Advertised
It's just not enough for my skin and flakes began to emerge on my chin after two days use, but while I won't finish the bottle I think it would be OK for someone with a normal/normal-to-combination type, especially if buying organic was a big concern.