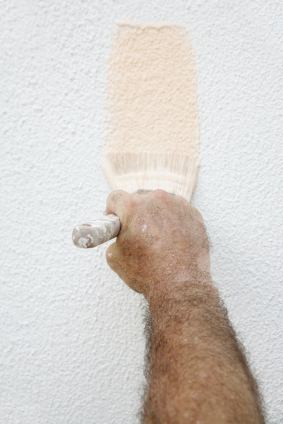 A beauty blogger prepares swatches
Ah she had to be having a laugh didn't she?  Otherwise it was an absolutely incredible unprovoked attack on beauty bloggers.  The venom that was released in this  post from makeup artist Kay Montano showed a serious lack of understanding of how social media works and the democracy of blogging.
It wasn't the story she was telling which was fairly mundane.  Apparently a PR agency sent out incorrect information in a press release about some work she'd done which was then replicated around the web.  Big deal.  Get over it - it happens all the time.  Not the bloggers fault - blame the PR agency.
And then there was some ranting about going to launches and seeing - horror - bloggers at it!  Getting free stuff!  Well again. Get over it.
They provide tons of coverage for brands.  Mountains of it.  That's why they're invited.  Sorry if you don't like it.
Advertised
The most hilarious part of the post  was the patronising and superior way in which she divided beauty bloggers into two camps.  (She had stupid names for them both)  One is better than the other apparently - because one set writes for magazines.  The other set swatch lipsticks onto their hairy arms - and who would want to see that?
Who would want to see an un-photoshopped view of an eyeshadow or lipstick shade on real skin in natural light?  Literally millions of people it would appear, from the traffic we get collectively.
Now here's the thing.  Traffic to beauty blogs is huge and growing every day.  Magazine sales are declining.  Magazines recruit bloggers to write for them.  No magazine website or blog has ever been able to come close to the success of the best beauty blogs despite pumping huge money and resources online.
It's not happening.  But it got worse.  Comments and tweets agreeing and sneering at bloggers followed thick and fast by the magazine industry.  Only a month before Cosmo had run Bloggers Awards "Aimed at celebrating the crème de la crème of the blogging community": however who did we spy wading in but the beauty editor of Cosmo, Inge van Lotringen @cosmobeautyboss, retweeting her agreement in response to the following?  When the beauty editor of Hello magazine (not actually noted for its beauty coverage) and Beauty presenter of ITV's This Morning, tweeted "Kay is not only a very talented makeup artist - she speaks the truth", she began a smug little bitchfest among magazine eds, leaving a really really bad taste in many peoples mouths.
It reminds me a little of the time Alexa Chung showed her distaste for fashion bloggers in Vogue - the very people who had arguably made her so famous.
Advertised
Irish magazines are a bit different thank goodness.  They don't go in for this wholesale nasty crap that the whole of the UK media is infested with, so we've been able to sit back and watch the drama unfolding.  It's a shame really because it could have been so different for Kay Montano.  She could have launched her blogging career by doing what she does best - makeup.  Raised her profile, gathered thousands of new fans and taken the opportunity to learn how to engage.  Instead she has alienated with her arrogance.
Oh well.  Another one bites the dust.