 If you're a skincare lover like me then you've probably seen a few pictures of skincare fridges pop up on Instagram lately and wondered what this new trend is all about.
Well, I've done some digging to find out exactly what are the benefits (if any) to having a mini-fridge dedicated to all of your precious skincare products.
Firstly, there is currently no scientific evidence to prove that refrigerating skincare products will boost or enhance their performance, however, there are some benefits to putting certain skincare products in the fridge.
So what products can you refrigerate?
Natural & preservative-free products
The cool temperature will extend shelf-life by slowing bacteria growth. For example, it's recommended that you keep Lush face masks in the fridge when not in use.
Products containing Vitamin C
Vitamin C can breakdown when exposed to heat, so keeping products containing this ingredient in a fridge will help to preserve its benefits to the skin.
Sheet and face masks 
Keeping masks cool will have a lovely soothing effect on the skin by helping to reduce swelling and puffiness.
Facial tools
Advertised
Facial massage and sculpting tools like Jade Rollers and Gua Sha's are used to help lymphatic drainage and improve blood circulation. Keeping these tools cool will not only be a nice, refreshing treat for the skin that will help wake you up in the morning but it can also reduce puffiness.
Face mists
Keeping a face mist in the fridge won't improve its effectiveness. However, the cool mist will feel extra refreshing which may be a welcome treat on a hot summer's day.
Products that you should definitely keep away from the fridge include nail polish, fragrances, oil-based products and makeup.
Where can I buy a skincare/beauty fridge?
So now that you know the benefits of keeping certain products in the fridge, where can you purchase one?
Following the growth of this popular trend, a few companies have come onto the market selling beauty specific mini-fridges.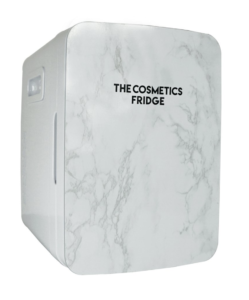 The Cosmetics Fridge sell this adorable marble effect fridge.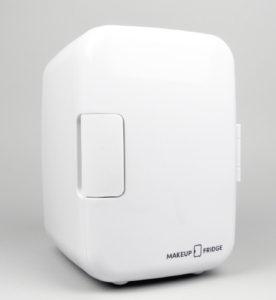 The Makeup Fridge sells this very sleek and modern one.
Advertised
Of course, there's also the more cost-effective option of buying a mini-fridge from Amazon or Argos but we'll leave that choice up to you.
Would you consider having your own skincare fridge?