 Sheet masks are some of the most buzzed-about skincare products - as they should be
Yes, we love cheap 'n' cheerful skincare products 'round these parts. We hope and we pray that something you can find in the supermarket really will work as well as the expensive pharmacy brands. But while you most certainly can find a very close makeup dupe, it's much harder to find a purse-friendly skincare product that does the same job as one that costs the same as five days of lunches. The reason, for the most part, is ingredients, ie the percentage of active ingredients in the product.  Expensive brands will also have a lot more time and resources for research. Now, that's not to say you can trust all expensive brands - some that mass produces a lot of product will add bulking agents and preservatives that aren't particularly good for humans - but generally speaking, an expensive version of the same skincare product will do a more effective job.
Three 'luxury' brands have all recently released sheet masks, and I've tried them all - but I won't be comparing them because I think all three are very, very good. Sheet masks are not for everyone - our own Beauty Editor Aisling isn't a fan - but I really enjoy a good mask as the final step of my Sunday facial routine. That said, I would use any one of these three masks on days other than my end-of-the-weekend winddown. If you have the time to spare, a good sheet mask is a brilliant skin prep step before an occasion. I like to chill with a facemask before weddings when I'm waiting around for my husband to decide what tie to wear. So I can match my outfit to his. (Joke! I always choose his tie so he matches me.)
No matter how expensive they are, sheet masks are not a long-term fix. I think of them as mini at-home facials - in fact, I always do a cleanse, exfoliation and tone before applying one. The effect a sheet mask gives should be obvious, but it's not topical. Think of them as skin perk-ups. Perfect for prepping for an occasion, or disguising the fact that your hectic lifestyle is catching up with you.
These three do work, but because they're expensive, they need to be treated with reverence. Save them for weddings or for an event you're going to where you'll definitely bump into your ex.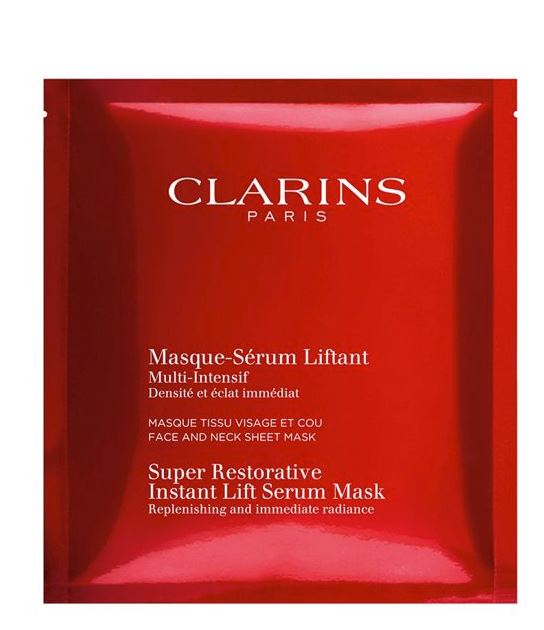 Advertised
One of the best things about this mask is that it has a neck flap. That's rare. It 'targets lines and wrinkles' by hydrating the skin and plumping it up - and you can see results in 15 minutes. Sarah Jane loves this too and says that it really does keep its 15 minutes promise. Read her review here.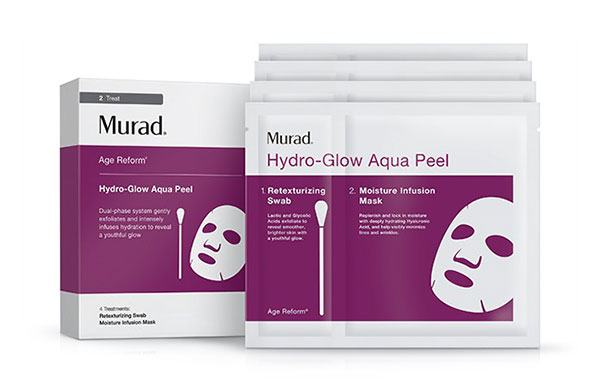 Murad Hydro-Glow Aqua Peel €48.95 for four masks
This doesn't look like it costs as much as the other two, but then again, Murad recommends you use one 3 - 4 times a week. So... I did use all four over two weeks at Christmas time, and boy, was I grateful for it. Like most sheet masks, it hydrates, but this one also exfoliates. It's a two-part treatment, before the mask, you rub the 'retexturising swab' all over your face. It's pre-soaked with a blend of Lactic and Glycolic Acids and botanical extracts for exfoliation. The 'Moisture Infusion Mask' contains super-ingredient Hyaluronic Acid to replenish skin and seals in moisture. I have to say, the chaos of Christmas caught up with me in the form of the flu, but it didn't show on my face, thanks to this.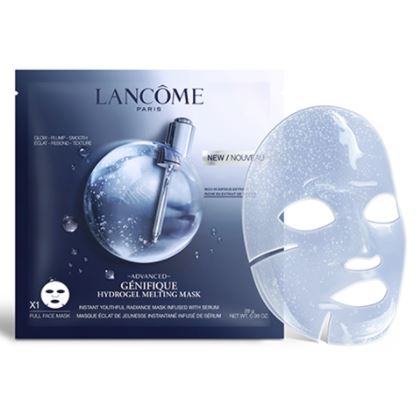 Advertised
Lancôme Advanced Génifique Hydrogel Melting Mask €20 
Once more, its main function is hydration, but this one is supposed to give visible results in ten minutes. It's the mask version of Lancome's Anvanced Genifique serum, which has a massive and loyal following. I included it on my list of things to buy this payday because it's genuinely a treat of a mask.