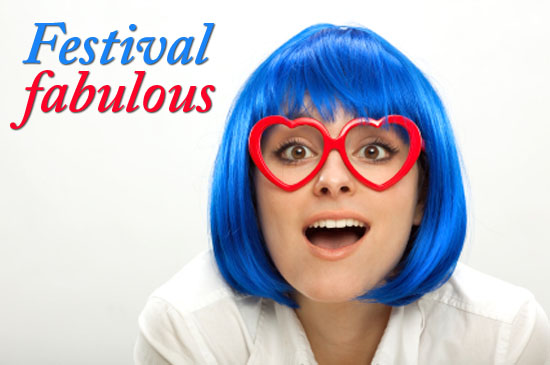 At this stage, you hopefully have your tent organised, located and rinsed off your wellies after Oxegen (or Electric Picnic last year - ewwwww) and are just about set for EP this weekend. We've covered make-up inspiration and general festial survival on the blog in the past, but what about your crowning glory? Won't somebody please think of the children gruaig!
Needless to say, dry shampoo is your only man when it comes to keeping hair (reasonably) fresh. Sure, there will be pop-up salons offering a wash and blow dry service if you're arsed to seek them out, but mostly you should just forget about high-octane glamour this weekend. It's all about looking half decent while keeping things as low-maintenance as possible so you can spend less time fretting about your hair and more time looking at bands or queuing for mojitos in the Bacardi Live Tent. Work with what you've got. And don't go next or near those pay-as-you-go straighteners: GHDing dirty locks is just dis-gus-ting.
Cheap and cheerful Batiste is now available in different colours as well as different fragrances, so you should be able to find a version to suit. It'll also give hair a bit of grip and volume so you'll be able to tie it up out of the way with ease.
If you've got mid-length or longer hair and can pull them off, tousled, teased, low-slung pigtails or plaits (in the style of blogger Keiko Lynn rather than Abby from NCIS, mind) are my favourite festival look. Easy-peasy to do, they can look gorgeous, a bit boho and - yes - even grown-up if done properly. Clipping back the front of your hair for a half-up, half-down style is another dead simple option and will keep it out of your face.
Advertised
Long, straight hair that's inclined to look lank without daily blow dries? Curl it with a GHD, tongs, or hot rollers before you head for Stradbally. Aim for tight curls that will survive being slept on and you should be able to gently brush them out the following morning for soft Olivia Palermo-stylee waves or coax it into an updo with loads of body.
If you've long hair with a natural curl or wave and fancy something a little bit different for the weekend that's in it, why not give the faux bob a whirl, or pile the lot up into a messy bun, either atop your head or at the nape of your neck as an asymmetrical chignon?
I love love love the look of headbands, both hippie chic versions like Nicole Richie's and proper hippie flower garland versions as worn by Una Healy and Pixie Lott. Sadly my massive forehead will never permit me to pull of either with aplomb, but I urge anyone with a normal sized noggin and flower-child leanings to give them a whirl. If a full-on headpiece is a bit OTT for your tastes, try an embellished Alice band or a clip in a corsage instead.
Last but not least: remember to pack a cover-up. If all else fails, it's very bloody handy to have a dapper trilby hat or chic headscarf (or wig, if you're Katy Perry) on hand under which the whole lot can be bundled!