 While researching today's post, I discovered that several retailers categorise hair accessories as jewellery, which fits in pretty perfectly with the theme of this piece. If my wallet would stand it I'd be amassing a new wardrobe made entirely of sequins and sparkles, but for now I'll have to make do with some bling to go in my hair. Bunging a statement accessory* onto your barnet can take an outfit from plain to Christmas party in an instant and elevate even the laziest attempt at a hair do (usually mine) from a bit half-arsed to positively well-executed.
* Novelty antlers and bopper snowmen/mistletoe/snowball/Santy headbands do not count as statement accessories for the purposes of this article. Soz.
CLIPS, BOBBINS, AND BOWS (OH MY!)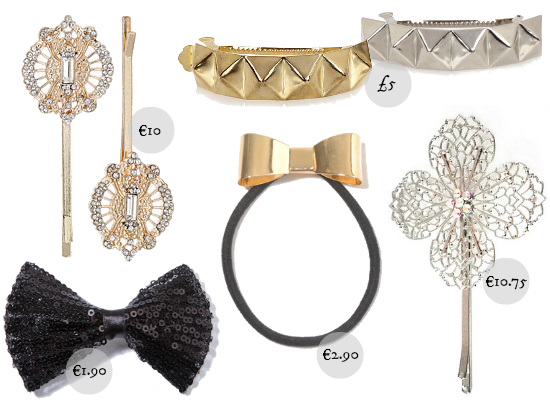 clockwise from bottom left: Forever 21, Dorothy Perkins, River Island,  Debenhams, Forever 21
Even the boringest ponytail (again, usually mine - so flat and schoolgirly that I reckon not even Jennifer Aniston's stylist could sort it) will benefit from the addition of a little fanciness. These (ok, maybe not the sequinned bow so much) are office party safe and unlikely to break the bank. That Kate Spade-alike wee gold bow bobbin for less than THREE QUID has my name written all over it.
from M&S (L); Accessorize (R)
Advertised
all Accessorize
For maximum effect with minimum fuss, a hairband is as close to foolproof as it's possible to get. Regardless of whether it's a metal or an elasticated band, you won't need to worry about it slipping or falling off unless things get seriously rowdy (and if things are headed that direction, well, your hairband will probably be the least of your worries.)
all ASOS
Not everyone's cup of builder's brew, these, but if you can handle the hilarious enquiries about why you're wearing a necklace/bits of a bird in your hair (just take a deep breath and channel your inner Zooey Deschanel) any one of them would make a nicely eclectic choice (and you'd be able to wear them to next summer's festivals!) And hey. If nothing else, they're good conversation starters.
Advertised
Are you a fan of a good eyecatching hair accessory at this time of year or do you think they're just wildly OTT?