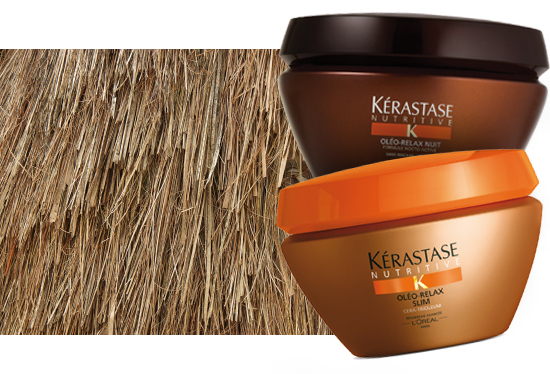 Uhuh. Read that headline over again and titter, but it's true: posh hair brand Kerastase have just launched three products to tackle the problem of fat hair.
Lets clarify: fat hair isn't hair that's suffering from cake retention. It's not hair with glandular problems. It's not even hair that's incapable of regulating portion size.
Rather, it's hair that's "thick, unruly and rebellious." One of the  most difficult and demanding hair-types to deal with, say Kerastase, which is why they've just launched Oléo-Slim, their first volume reduction range.  So if getting volume is your problem, then this ain't for you, but if you've a bush on your noggin to rival a thatched cottage, then you'll bloody love this stuff.
Three products help squinch down locks, using Cera-Trioleum Technology  which includes oils and proteins like apricot, camelina  and ceramides. Check out Oléo-Relax Nuit, €35.30, a leave-in night-time masque;  Masque Oléo-Relax Slim, €35.30, a smoothing masque for thick, unruly hair, and Fluide Oléo-Relax Slim Cream,  €24.30, an intense smoothing/blowdrying cream to provide ultimate control and smoothness.
Advertised
Now, I'm no candidate for these babies because my hair is fine even though it's so abundant, so I'm looking for a willing guinea pig to check them out. I've got one set of the night-time and Oleo Relax slim masques, so if you've got furze bush-esque gruaig, leave a comment and let me know why you'd like to test them for review on the blog. I'll pick a lucky gal at random and email you if you're the lucky candidate!*
*T&Cs: I'll only post within Ireland; please leave a comment if your hair is a match for the range (thick, unmanageable, frizzy and very dry); you'll probably have to pick them up from the post office as the parcel won't fit through a letter box; you'll need to use them a minimum of three times; I will definitely be coming back to you for feedback, which will be published on the site. Phew!