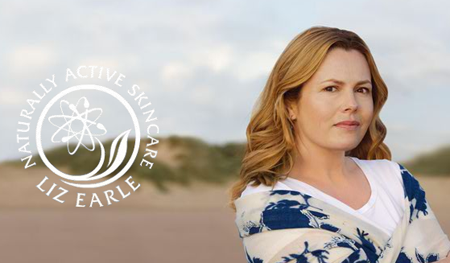 The last time Liz Earle was in town (check our exclusive reader questions here, here and here) I quizzed her about future product plans. Something that's always struck me about her products is how nice they smell, and wouldn't it be great if she made fragrance? Turns out I wasn't the only one to think so, and she revealed that she was in the process of developing perfume. Then she held me down and threatened to kill me* if I blogged about it, and so dutifully I did not, until now.
Because now's the time, ladies. Liz Earle Botanical Essence Eau de Parfum No. 1 will launch in October, and I am highly excited. I love fragrance anyway, and this one is going to be a pretty big departure for a scent industry that's polarised into mostly synthetics of various complexities on one end, and natural, single note essential oils on the other.
There's never really been anything in between, and a large part of that is because it's been notoriously difficult to create synthetic free, natural perfumes with longevity. Apparently that's not going to be a problem here, though, as the brand are using "cutting edge expertise and advanced, highly refined technologies that enable drop by drop distillation, as well as protection from the higher temperatures of conventional processes, mak[ing] it possible to fine-tune and perfect the precious essential oils."
98% naturally-derived, the scent's taken three years to develop, using Instant Boost Skin Tonic as a starting point, and we can expect to be able to bag a bottle in the Autumn. Want a sneaky at the notes used? Check after the cut.
Key ingredients:
Advertised
Top notes:
Bergamot  Fresh, bright, zesty, sparkling, spicy, multifaceted, complex citrus.
Mandarin  Intensely sweet followed by a neroli-like floral note.
Orange Bigarade Fresh and bitter with a rich and lasting floral undertone.
Lemon   Light, citrus fresh note.
Cardamom Warm, spicy aromatic note
Middle notes:
Rose absolute Extremely rich, deep, spicy floral with sweet almost honey like undertones
Lavender  Fresh, herbaceous floral with a balsamic-woody undertone.
Geranium Intensive floral aroma, reminiscent of rose but with herbaceous undertone
Coriander A smooth peppery / woody top with floral balsamic undertones
Nutmeg Light, fresh, warm, spicy and aromatic with a rich, sweet-spicy body note.
Base notes:
Cedarwood  Pleasant, woody, balsamic
Vetiver Heavy, almost earthy with rich undertones of 'precious wood'.
Tonka Bean Very rich, sweet, warm with prune or caramel like undertones, reminiscent of vanilla, almonds, cinnamon and cloves.
Patchouli oil Extremely rich, aromatic spicy and woody-balsamic with a delicate earthiness
Advertised
*I jest, Liz was delightful and utterly polite, the info was Top Secret at the time, though!
Get Beaut.ie Delivered
Stay updated with Beaut.ie newsletters full of the latest happenings at Beaut.ie as well as great offers and things we think you might find interesting .