 Brunettes are stereotypically known for being classy, alluring and a little bit aloof. Remember, blondes are the ones to have all the fun. Well, we brown of hair would have more fun if it wasn't so damn hard for us to dye our hair purple.
Now, I have great news for brunettes who've always wanted to dye their hair a rainbow colour but didn't want to go near the bleach. US company Splat has introduced a new range of bold colours that brown haired beauties can try: no bleaching required.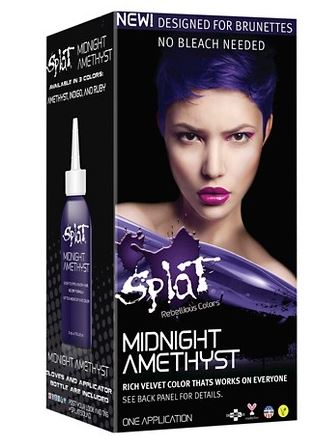 According to Yahoo, "The Splat collection is made from what the company refers to as "direct dyes," which allow brunettes to colour their hair a bold hue—without prior bleaching."
Advertised
The vegan-friendly collection comes in three shades: Midnight Amethyst, Midnight Ruby and Midnight Indigo. Apparently, the "finely milled micro-pigments" leave hair highly pigmented but damage-free. And it only takes 45 minutes to do.
Reportedly, US store Target stocks the affordable kits, which now delivers to Ireland. However, a quick search yields no results. We're just going to keep hitting the refresh button, so.