 My name is Sarah and I am a full coverage addict.
I love foundations that last all day, hide any imperfections and generally require the help of fifteen people to remove. So when I set myself the task of trying a lighter coverage product, I wasn't sure I could cope with such a notion. I clutched my full coverage and hissed at it initially but I eventually gave in and gave it a go.
I opted to try the lighter side with Origins Smarty Plants CC Cream (€36). And it was the type of product I instinctively wanted to despise. You know the ones; they typically offer little to no coverage, are never the right colour and have little to no staying power.
Well the Origins offering is two of those things and yet it doesn't feel like an entirely bad thing. Let me explain! My shade 03 very light was indeed not very light at all. In fact it gave me a rather tanned complexion which considering I was just holidaying in 30 degree weather in Greece is not a bad thing. But if I was sporting my normally very pale tone, I might have been in trouble.
Of course the fact that it is a colour correcting cream and not a foundation means that I didn't expect much coverage after application. I was worried that it would be much too light of a formula but this CC cream did something magic that made my skin look healthy and relatively flawless. It is truly the witching week.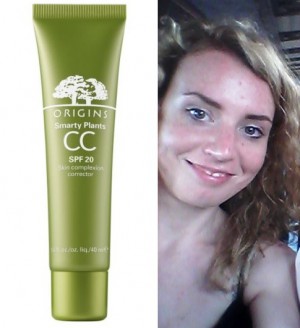 Advertised
That aside Smarty Plants contains an SPF 20 and lasted a pretty decent amount of time on my skin. Infused with vitamins C, E and Green Tea, this pricey little thing claims to minimize oil, visibly shrink pores, smooth fine/dry lines and defend skin against environmental aging. Those are some big claims and while it gave a nice finish, it wasn't a miracle worker and I still have my usual oily issues.
Now it definitely has that very distinctive citrus scent so if you are not a fan, approach with caution. It also adds a noticeable 'sunscreen sheen' to the skin and it also contains alcohol. That said, I really was pleasantly surprised at the healthy glow and colour that it gave to my otherwise pale and blemished fiseog. It lasted a decent amount of time and of course the healthy dose of sunscreen is always appreciated. Just don't wear if you know you are going to have a gazillion pictures taken that day but unless you are an undercover celeb, no need to overly worry about this.
But have I been converted to the lighter side? No, I must be honest and say that I have not. The final verdict is that while I wouldn't splash out and repurchase this fancy fellow, I will save and continue to use the one on any hols with a bit of primer and mattifying powder on top.
So tell me, are you perpetually disappointed with all the CC and BB creams available on the European market or do you think they're the best thing since sliced pan? Are you Team Light or Team Full when it comes to coverage? And if you've any products that you think might convert me, I'd love to hear your recommendations!