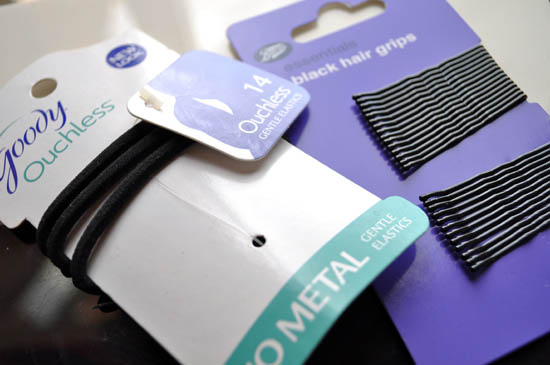 One thing that gladdened my I-can't-be-bothered-much-with-my-hair heart about the recent Beaut.ie Awards were the hair categories because like me, lots of you can't be fecked spending much money on your barnets either. Hurray!
In fact, something I buy constantly, Boots Essentials Hair Grips, topped the polls in Hair Tools. These cheap as chips little hair clamps are great and as I seem to leave them places constantly I'm always re-purchasing. I don't see the sense in spending money on pricier versions either; these do the job perfectly, come in a couple of colours and sizes and cost half nothing. What more do you need, eh?
I'm also a big fan of Goody's Ouchless Elastics which don't have a metal clamp so they don't catch in your hair and tear it. Because I wear my hair up a lot, I hate bobbins which snag, so these are perfect. I *think* you can now get Goody in Boots, but I bought three packs last time I was in New York and you're looking at all I have left. So put it this way, I HOPE you can get them here now ...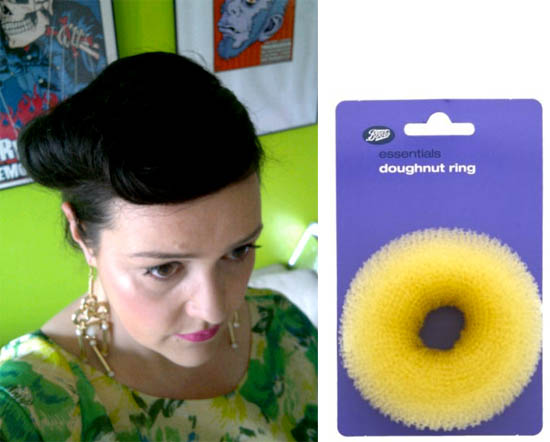 No idea why I look so very, very serious ...
Advertised
Other cheap things I love for hair are Boots doughnuts which are again just a couple of quid and which you can use for nice big fat buns. I also cut them and use them as hair 'rats' to create Victory Rolls, totally inspired by a recent post on What Katie Did. (She's a Dundalk blogger with a strong burlesque sensibility, something I'm admittedly not into at all but her photography is lovely and she does great looks, check her out!).
I used a snipped doughnut from Boots for my hair at last week's awards and it worked really well - I just rolled my hair around it and then pinned it into place with - yep, you guessed it - some hair grips and then used about 56 cans of hairspray to weld it into place. It was honestly super-easy and anyone could do it, all you need is a bit of practice and hair that's long enough to cover the sponge.
The next thing I want to get are some Goody Spin Pins - I frequently throw my locks up into a messy bun and these things allow you to literally 'screw' your hair into place. Yeah - snigger snigger. Anyway, next time I see 'em, I'm buying them!
Those are my cheapo hair essentials (Batiste or some form of dry shampoo and hairspray are also musts in Kirstie-land) but what about you - what do you count as must-haves for hair?