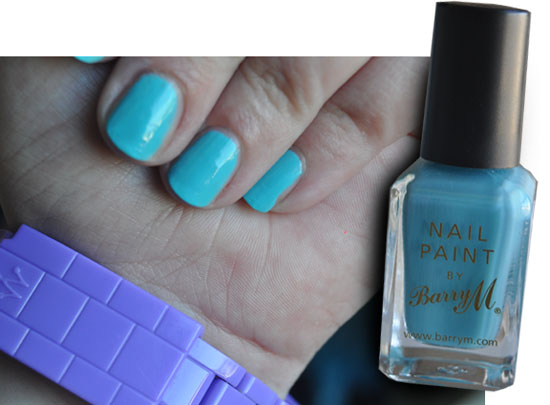 A quick snap of some nail colour I lashed on my talons during what was a very hot and sunny weekend in the UK, where I've just been for a few days. This is a relatively new shade from Barry M, and it's called Blueberry Ice Cream, one of the sorbet-inspired shades the brand released for summer. We've already taken a look at Berry Ice Cream, a lilac, and this bottle's been lurking in my makeup bag waiting for an outing.
Ta da!
While I don't think the hot weather helped the formulation - which was pretty thick and gloopy and not the way these polishes normally are - the colour is spot-on for summer. It's a creme shade that's really bright and clear, and looks excellent worn with contrasting colours. I had a red cardie on yesterday and as I walked down the jetty onto the plane to come home, I was so lost in love for it against the scarlet that I walked straight into a wall. Ow. I should also add that I'd just been sitting in front of none other than De Apprentiss's Bill Cullen at the gate, so was all a-fluster anyway.
BILL CULLEN!
Advertised
Right, back to nail varnish.
As you can see, the paint job's a bit dodgy thanks to the gloopy consistency, which was pretty hard to work with. Two coats and some fast-drying drops were all I had time for and it's holding up ok considering how hard I am on polish. It's been on two days and while it's wearing at the tips and there are a couple of chips, it's holding its own pretty well.
My next step is to try it again when it's a little cooler to see if that improves viscosity; so there's just one thing left to tell you - price. Barry M varnish costs €4.50 a bottle but I got this with Berry Ice Cream for two for €8 at Boots, so it's always worth seeing if they're running a promo.