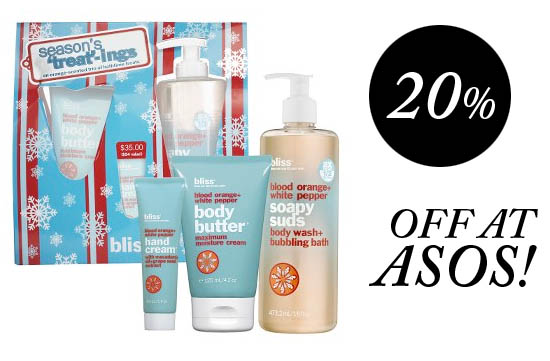 If, like me, you're yet to start your pressie shopping, then listen up: ASOS* has 20% off on beauty at the moment and with shipping guaranteed if you order before December 14th, they're also knocking the price of postage off for standard delivery too. A fifth off and freebie shipping? Tis a combination to tempt the hearts and credit cards of many.
So I thought you might like to her that you can indulge in a few of your favourite brands at a nice little discount. Take Benefit, for example. We're always complaining about the markup here so now's your chance to get some for cheap, and no worries about getting caught at customs. The new and very pretty Girl Meets Pearl is €25.13, Prrrowl (a cute lash topcoat and gloss combo) is €20 and Justine Case is €21.51.
There's loads more on offer too: Elemis has 20% off, as does Barry M, Illamasqua, Bliss, Essie, Eyeko, RMK and Korres. And while ASOS doesn't carry everything from every brand, there's enough there to tickle your fancy.
Advertised
What do you reckon you might buy?
*Indicates an affiliate website. This means that every time you click through the links we put a (*) beside and choose to buy, we get a small percentage of that sale (usually between 2% – 5%). So if you like Beaut.ie and want to support us and help us pay our bills, we really appreciate it when you click our links.