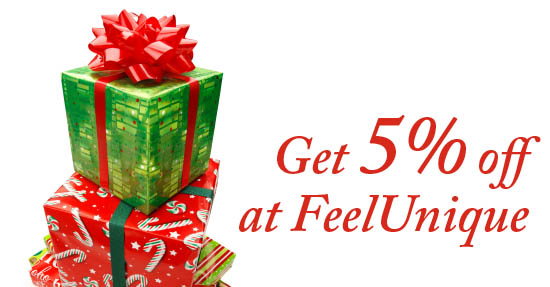 A few weeks ago Aphrodite gave you the heads-up on a 2.5% discount offer at FeelUnique*, an affiliate site we recommend for their great ranges and free shipping to Ireland, which helps to balance out the fact the site is Jersey-based so you may possibly get hit for VAT charges on this end. It's random: sometimes you get charged, others you don't, but if you buy goods under the value of €22, you're safe no matter what.
That's all by-the-by: a couple of you alerted us to the fact the previous link wasn't working correctly so it's now fixed and DOUBLED! Yers, you can now get 5% off at FeelUnique.com when you head over there to buy stuff for yourself or for pressies using the link below - it's done by cookies so if you're not seeing the discount it's probably because you didn't click through to FeelUnique using a link on Beaut.ie.
There's lots to like on the site by the way: up to 40% off on fragrance collections, skincare sets and tons of stocking fillers as well as loads of great brands.
SHOP NOW AND GET THE 5% DISCOUNT
Advertised
This will automatically take 5% off at the checkout or you can use BEAUT5 at the checkout either. The code excludes Ghds.
*FeelUnique is a site we have an affiliate arrangement with and we get a small percentage of the purchases made through our links.  We always really appreciate it when you do decide to buy, as it helps us out with the cost of running the site.