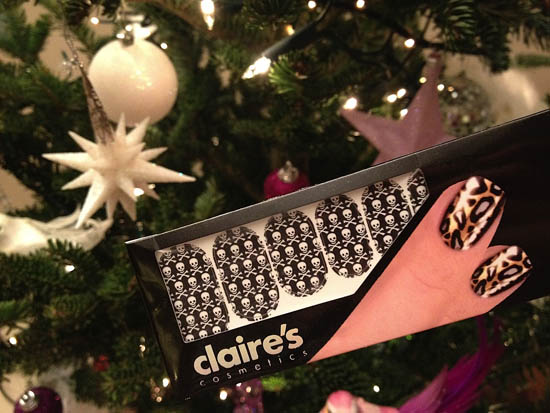 It took some serious mental effort to ignore the annoying little voice that started chiming in my head when I spotted that Claire's Accessories do a range of nail stickers (€7.95 each.) "Don't you already have a load of those things?" it said. "I'm pretty sure there's half a drawer worth of them at home from Sephora, and Blixz, and Sally Hansen, and Nail Rocks, and you've used how many of those? Two, right?"
I focused on thinking "la la la la LAAAAA..." as loudly as I could to drown it out, and defiantly picked up a set of black decals emblazoned with white skull 'n' bones and a pack of greeny blue stickers printed with peacock feathers to add to my collection.
There are 18 pre-cut nail shapes in each packet and, to their credit, these aren't nearly as thick and unwieldy as I suspected they might be. In fact, they're actually quite thin for something that has no qualms about actually using the word "sticker" on its packaging, and once applied I couldn't tell where they ended and the edge of my own nails began.
They do need a little bit of heat to make them sufficiently pliable to smooth onto nails, ease out wrinkles, and ensure an even finish. I recommend keeping a hairdryer within arm's reach and giving each individual sticker a blast to warm it up just before applying. (Be sure to use a low heat setting so you don't inadvertently cause them to melt!) It might seem like a bit of a palaver but it's worth it: I did a couple of nails without using any heat and wound up with a couple of creases towards the nail tips that were impossible to get rid of. They weren't wildly obvious, now, but they just wrecked my head completely.
Advertised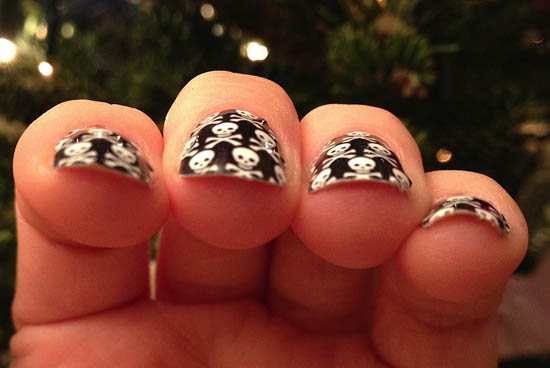 I tried to be very clever and add a layer of clear topcoat on one hand to help increase the sticker's staying power and seal the free edge, but these particular nail stickers seem to repel topcoat. It peeled straight back off after a couple of hours, but not before it had caused the edges to lift a bit. After two full days of wear, the tips had peeled slightly on all fingers including those on which I hadn't experimented with topcoat and they were beginning to look tatty, but man that skull design was cool while it lasted!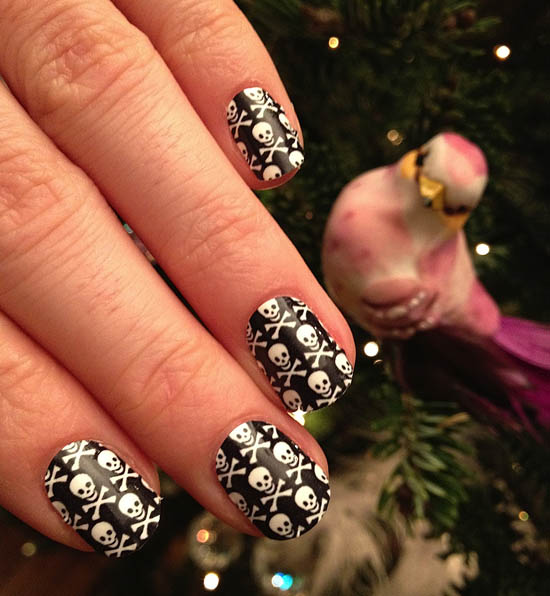 Ultimately, I don't think these probably are worth the spend unless you're hankering after a very particular pattern for a night out. Sally Hansen Salon Effects are only a quid more, are easier to apply, and if you're clever about how you use their long strips you'll get three or four manicures out of a box (the Claire's strips are much shorter, and I think you'd be hard pressed to stretch to two full stick-on manis with them.)