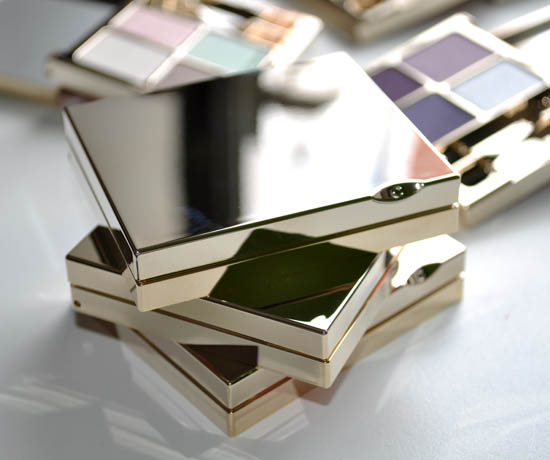 D'yiz remember there a week or so ago I trained it down to the Real Capital for the launch of Clarins Autumn beauty collection? Hitting counters in mid-August, the brand continues to ramp up its makeup offering, which is really welcome. New formulations, new packaging and reissued Claude made for a great day out and everyone enjoyed the various forms of eye candy on offer.
Some, ahem, we enjoyed more than others.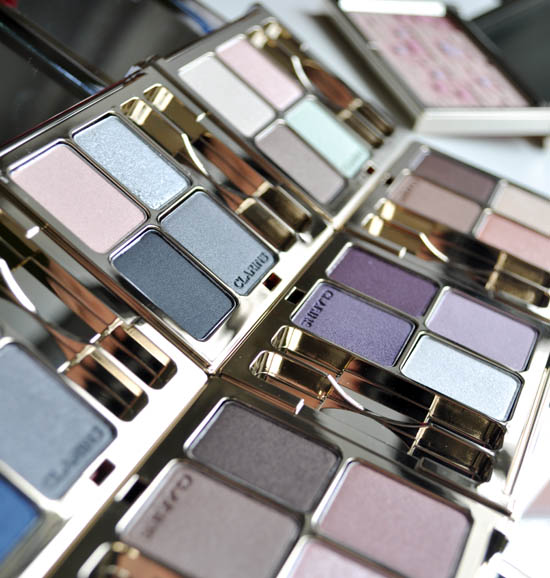 Lets talk the new palettes from the autumn collection today: boy, Ombre Minerale 4 Couleurs, €40, are pretty. Six in all, with four shades in each, and glossy, stylish gold-coloured metal casings match these up to the Rouge Prodige lipsticks and the Everlasting and Skin Illusion foundations. Apparently they're working with ex-YSL folks and you can tell - the casings scream luxury and they're exactly the sort of thing you're happy to take out in public to perform a touch-up or three.
For those of you who love the brand's existing quads, worry not, while these join the permanent line up from this autumn, that doesn't mean the current palettes in their silver and red ovals are disappearing immediately. They will be phased out, but it'll be gradual. So if you have a particular favourite, it'd be an idea to stock up - though you'll have a while to get your paws on your beloveds.

How's pigment? Bearing in mind Clarins is a lady brand and not a high fashion in yer face makeup gun-style range, it's fairly sheer to medium. There is a difference in the level of payoff across the colours in each quad too (some are sheer, some much more to the decent side of medium) and I'm guessing that's deliberate as each is designed for a specific part of the eye - you can see that indicated on the outer packaging above. There's a nice mix of textures in each quad from velvety matte to satin and a semi-glittery frost.
Dry, these swatch sheer-to-medium (take a look below), but the brand has a 'can use wet' claim for them too. I often think wet claims are a tetchy defense brands make when they're asked why their colours have poor payoff, but in this case, the product actually has been designed to use both ways.
Much like YSL's ace Pure Chromatics shadow palettes, colours behave well when you add water into the mix (either dip a brush into water or spray some on using a diffuser) and it really amplifies the finish. You don't suffer any ill effects in the pan either, like you can with other powder shadows, which become rock hard and unusable in the portion you dampened.
I was given the six palettes, so lets have a gander at what's what. Shade-wise, they're all very wearable.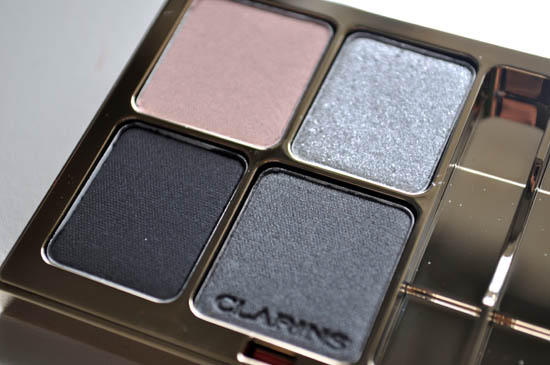 Graphites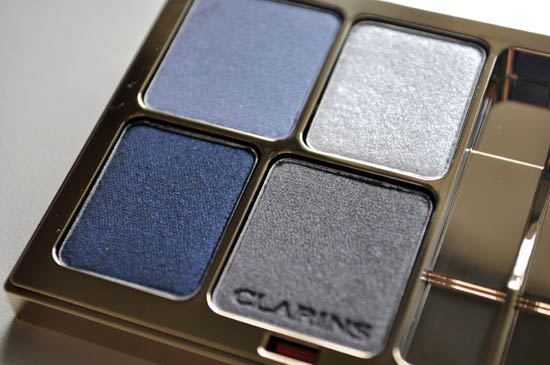 Indigo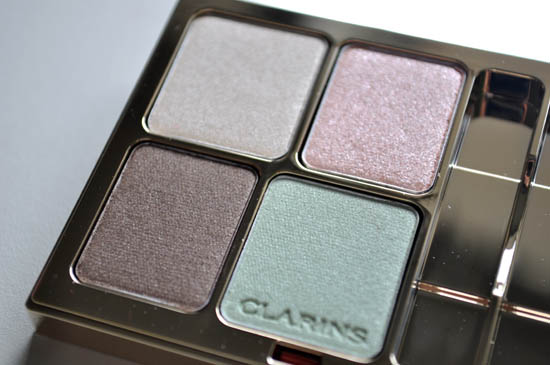 Advertised
Pastels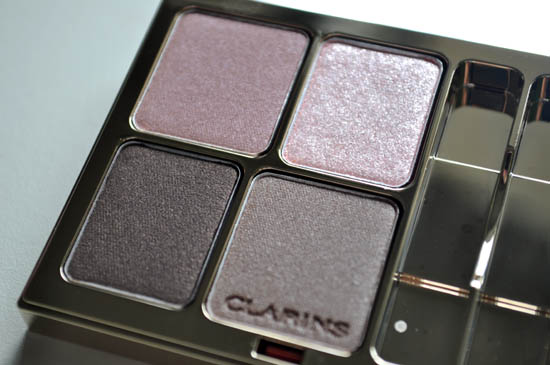 Rosewood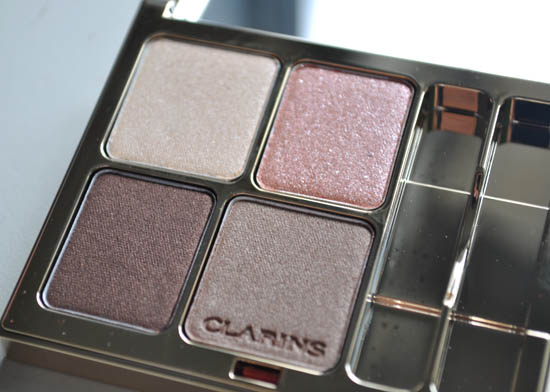 Nudes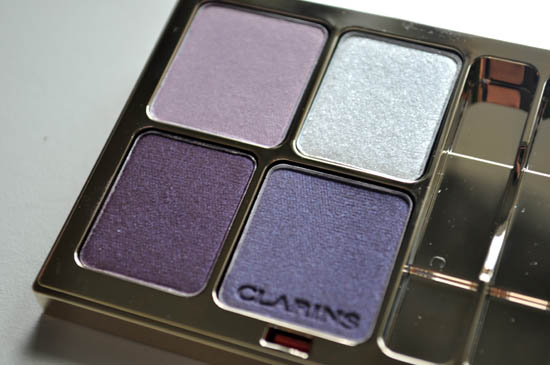 Violet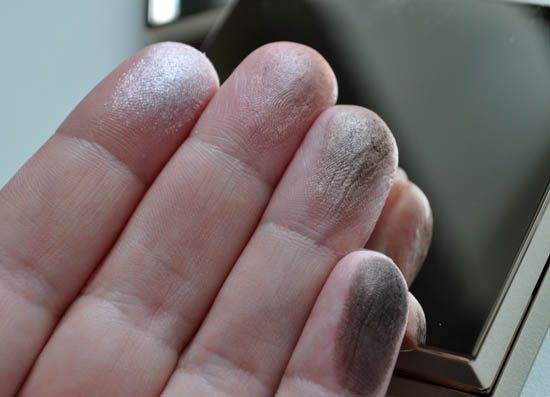 These are the Rosewood colours swatched dry on my fingertips - as you can see, pigmentation is pretty, but quite light.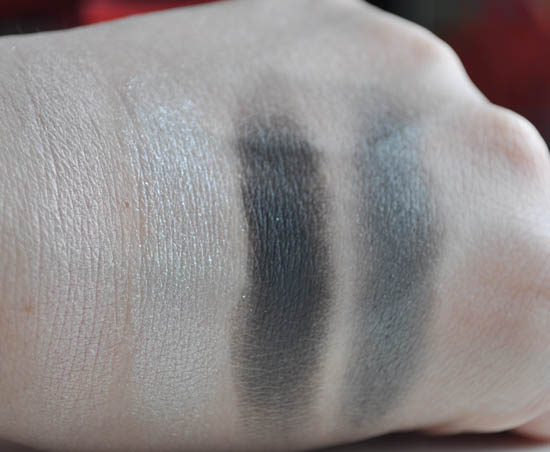 Graphites is the one that really grabbed me once I had a really good gander at all the colours. This is just a really good, wearable palette that will suit loads of different skin- and eye-tones.  Swatched dry - these are thickly sampled - the colours vary from sheer to medium.
What about wet?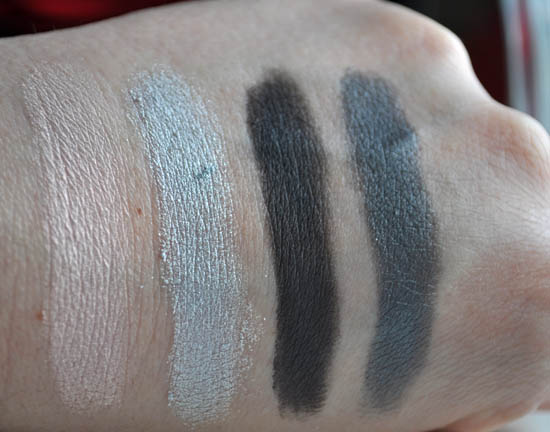 Oh, now that's a bit of a turn up for the books, isn't it? These really amplify when you use a damp brush and come into their own. That adds a nice point of difference to this product and gives it a day-to-night appeal as well. For work, you can do a very down-low look, but really add to it for evening. At €40 each, these aren't what you'd call cheap - effectively you're paying a tenner a shade - so it's just as well they've got that versatility.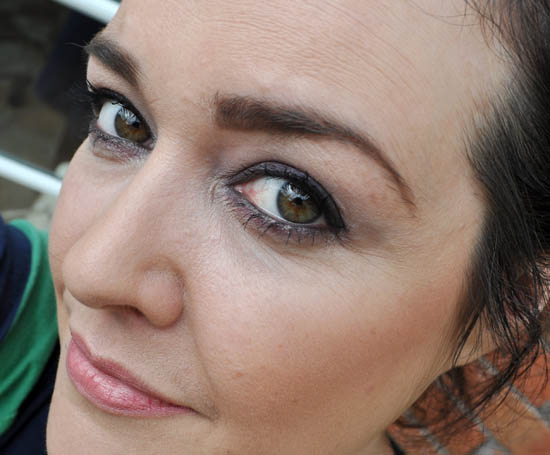 Advertised
And how do they look on? Those're the shades from the Violet quad applied on me by the ever-lovely Claude. He used the colours both wet and dry for a really pretty purple smokey eye that I reckoned looked great.
What do you think? Interested in indulging in one (or more) of the Ombre Minerale 4 Couleurs palettes? Which one would be your perfect pick? Lets discuss in the comments.