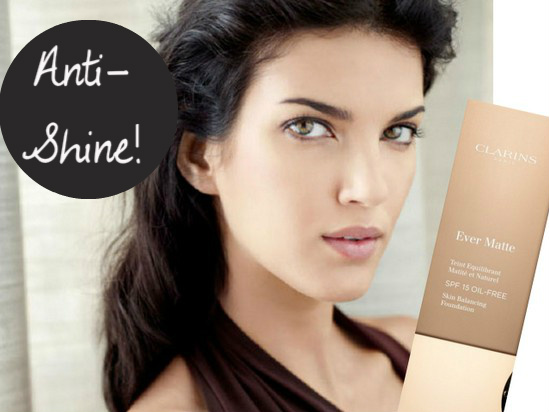 If you have oily or combination skin, like me, then keeping the dreaded shine at bay is hard enough at the best of times. When temperatures soar? I'd given up all hope. Then Clarins Ever Matte foundation arrived in the post like the answer to my prayers - at the same time as the Irish summer!
The packaging is a departure from Clarins' usual square glass bottles. It's lightweight and good for on the go, which I'd say was the intention - the box tells us to reapply as needed. I like the clean lines of the tube and the elegant gold lid is classic Clarins. The product itself has that signature Clarins scent  - fresh and sort of … cucumbery.
The texture is interesting – it has that thick, cushiony type of consistency that has more in common with a BB cream. The initial creaminess gives way to a featherlight finish on the skin. It feels – and looks – incredibly natural, despite the matte finish.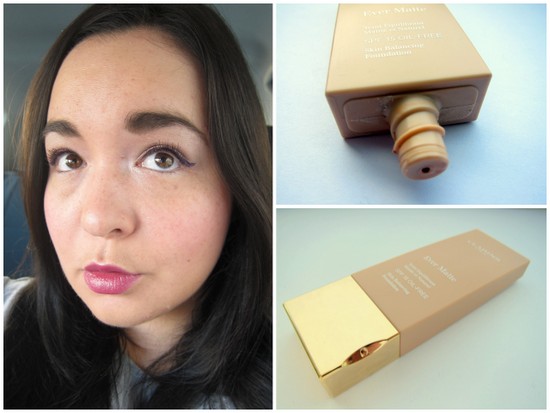 Advertised
(I'm also wearing this Instant Smooth Crystal lip balm from Clarins and the Body Shop Violet eyeliner from this post)
And that's not where the BB cream similarities end; this also has skin care benefits, with a combination of white tea and botanical extracts that are antioxidant rich. Oh, and SPF 15, too.
Coverage I'd say is light to medium - it's more full than the brand's Skin Illusion, but less than Everlasting Foundation. It's decent, but if you're prone to breakouts (again, like me), you'll still need a concealer.
It also lasts well – not as long as Everlasting, but it doesn't make any longwear claims. Anti-shine is what we're promised here, and that's what we get. This really works to control oil throughout the day – it even manages not to melt off the side of my nose, like other foundations do.
Shade choice is decent too – I have shade 109, wheat, and it comes in 10 other shades, 5 of which are paler than this one. I'd steer clear of this if you have dry skin all over but for combo or oily types, this is a real winner. If you've been hunting for something to give you a natural, shine-free, polished finish, I'd definitely give this a whirl.
Advertised
Clarins Ever Matte is on counter now, and can be yours for €32.53. Tempted?