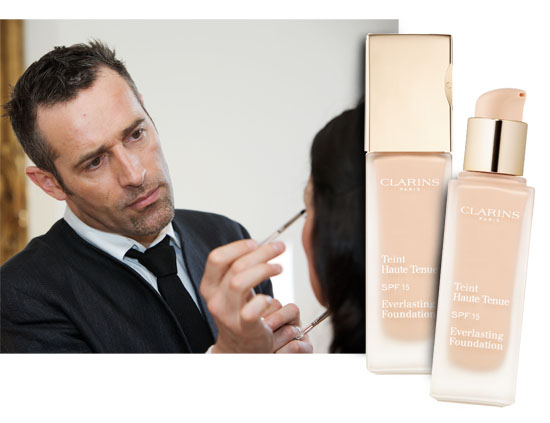 I went to check out Clarins' newest foundation t'other night, at a soiree at the Dylan Hotel. Props to the peeps at Clarins because they really, really got our attentions. Not entirely due to the product though, because they had their secret weapon in the room. And it was a man named Claude Defresne.
Handsome. French. Softly spoken and serially handsome (did I mention that already?) when Claude said the base had a high fidelity appearance - except HE said 'aaaaiieee fi-dell-it-eee' - the room heated up instantly by about 10 degrees. After he'd dropped his voice seductively a few times more (causing a gaggle of gals to eagerly lean forward in unison)  - saying things like 'zis foundation eees so ... moist' - it's fair to say it was pretty damn steamy in there. "Is it me," wondered one dazed makeup artist, "or is it very hot in here all of a sudden?"
Claude, you've got a friend for life.  In fact, you've got about 15 of them.
Ahem. On to the product.
Advertised
It's on counter now and it's called Everlasting Foundation SPF15.  Well-priced at €29 for a high-end product I reckon, this base sees the brand jockeying into position to overtake Estee Lauder's DoubleWear. And if you're a high-coverage, stay-all-day product fan you will adore this, I think. Ten shades - lots of delightfully pale ones, I am pleased to report - are available.
15 hours wear is the claim, and while initially dubious, when I tested the texture and saw the finish of this I was really impressed. Expecting a thick weight and clunky coverage, this is actually a fairly thin fluid that's lightweight so doesn't sit heavily on skin or transfer onto clothes. It's got hectorite (also used to make porcelain) in it, which is what provides the coverage factor without making the makeup itself gloopy. Light-reflecting pigments and hydrating benefits help it to remain comfortable and look natural, despite its effective blemish- and redness-camouflaging properties.
Now, I'll level. I am a sheer-to-not-quite-medium dewy-finish base kinda gal so I won't switch to this, despite claims that say it's suitable for all skin types. But if you've got long-wear concerns, coverage requirements or oilier skin that likes a mattifying effect (without it being too matte at all) then it's a dead cert you'll get along delightfully with this. A new foundation matching service is now available on counter, using transparent samples which are held against the skin to determine the right shade for you.
All in all, very well done, Clarins - oh and be sure to send Claude back soon, eh?