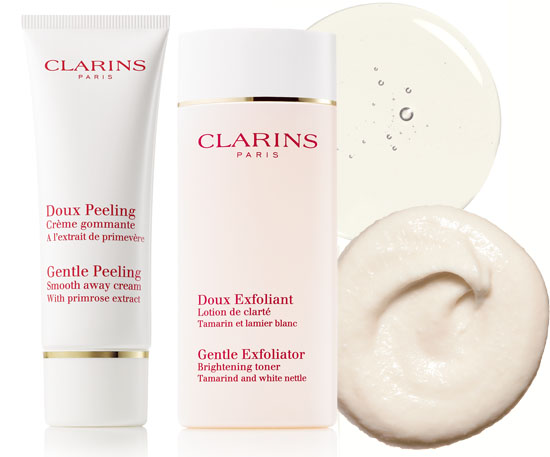 Kirstie recently gave us a heads up about the triumvirate of new exfoliators that are on counter at Clarins now. For my sins, I've been test driving two of the shiny new offerings (hard life, someone has to do it, etc etc) and am back with my findings!
First up, let's take a look at the Gentle Smooth Away Peeling Cream,€30. Strictly speaking, this isn't brand new, but it has been reformulated with primrose extract to soothe and balance skin. A smooth white, thick cream without microbeads or similar scrubby elements that might irritate sensitive skin, it goes on much like a face mask.
You apply a thin layer to clean, dry skin on the face and neck, and leave on for one minute, during which time it'll set slightly. You then rub it off using what Clarins describes as "light sweeping movements" and rinse off any remaining exfoliator with water. The idea is that the clay in the exfoliator will absorb impurities, while the manual exfoliating action of rubbing it off will sweep away dead skin cells as well as those impurities.
Now, even employing those "light sweeping movements" I nearly felt that it was sweeping away the downy hairs of my face along with dead cells and impurities - it really clings to skin! - but my skin did look flake-free, refined, glowing and actually velvety after use.
Advertised
Gentle Exfoliating Brightening Toner, also €30, is fantastically easy to use - this is a thick liquid that you apply to cotton wool, sweep over face and neck, and wait for one minute before continuing with your skincare routine. Simples! It's almost silky on application and unlike other products that I could mention (Clinique Clarifying Lotion, hem hem), doesn't sting or feel like it's stripping skin.
It contains tamarind, which is an AHA that stimulates the skin's natural renewal process, and white nettle which is a soothing anti-inflammatory. Despite the fact that it's called a toner, it is not for everyday and should actually only be used once or twice a week, and the presence of an AHA which can make skin sun sensitive means it's best used at night and you should use an SPF in conjunction with it.
I like this for its ease of use and the fact that it seems to almost magically give results - skin is definitely exfoliated and appears smoother, brighter and softer after use.