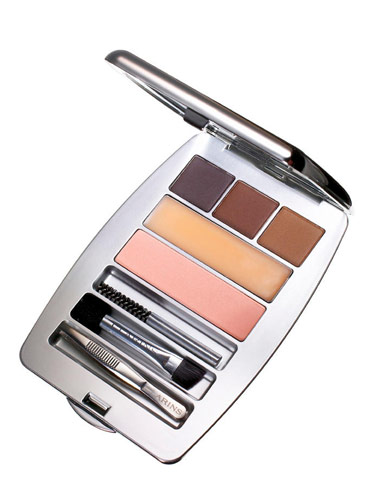 When we previewed this eyebrow kit from Clarins it' s safe to say a few of us got a bit hot under the collar about it. And I'm here to report that it's as fantastic as we thought it would be!
I'm absolutely loving this new creation from Clarins. The gadget part of me does a little squee when I see kits like this with a place for everything and everything in its place. Slots for a teeny tiny brush, a teeny tweezers and a mini eyebrow comb sit in cute silver perfection underneath stripes of eyebrow wax, pretty pink shadow and three colours
The niftiest kit, this contains shades to cater for every complexion. Squares of shadow allow you to fill in any gaps (whether there by plucking or nature - the kit does not judge). In my case gaps are there from misjudged plucking - but they're all filled in now. The wax keeps everything under control perfectly.
Advertised
Get one of these kits - you'll love it. Or put it on your Christmas list (I know I know I'm sorry to mention it...).
This will be in the shops next week, so get ready to grab one. And the price? I'll update the post as soon as I find out!  UPDATE: It's €39