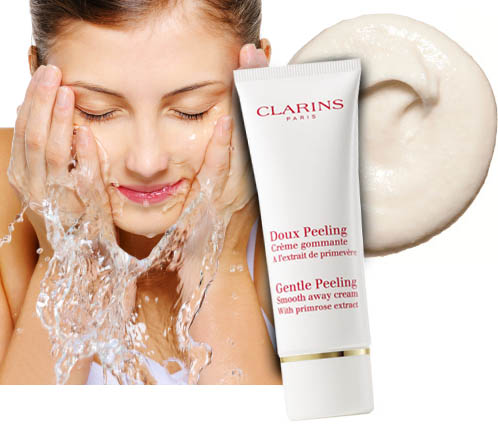 First off: the name of this product is misleading. Gentle Peeling: smooth away cream, €30, loses something in the translation from the French I think because this brought thoughts to my mind of some kind of salycilc or glycolic product. This works in a different way though - what Clarins calls 'microbeads' exfoliate and cleanse.
What it actually does is act like a clay mask which exfoliates gently as it is removed. It's full of flower and plant extracts which soothe and help to make this suitable for even sensitive skin
Apply a very thin layer (put on too much and it won't dry out and you'll lose much of the effect). When it dries sweep it off - it kind of crumbles - and with the dried out product comes all your old gunky skin cells and surface clogged-up stuff.
Advertised
This left my skin incredibly soft and because I've been having a rotten time with my skin lately this really helped to clear and make it look a lot better. I'm terrible for scrubbing away at my face with any old exfoliator that's lying around in the bathroom - and I particularly like men's products (Clinique for Men face scrub I love you.) So without a doubt I'm using scrubs that are too harsh for me so this made a welcome change.
If you're up for a bit of gentle de-clogging too, give this a go.